Brauerei Aichinger
Heiligenstadt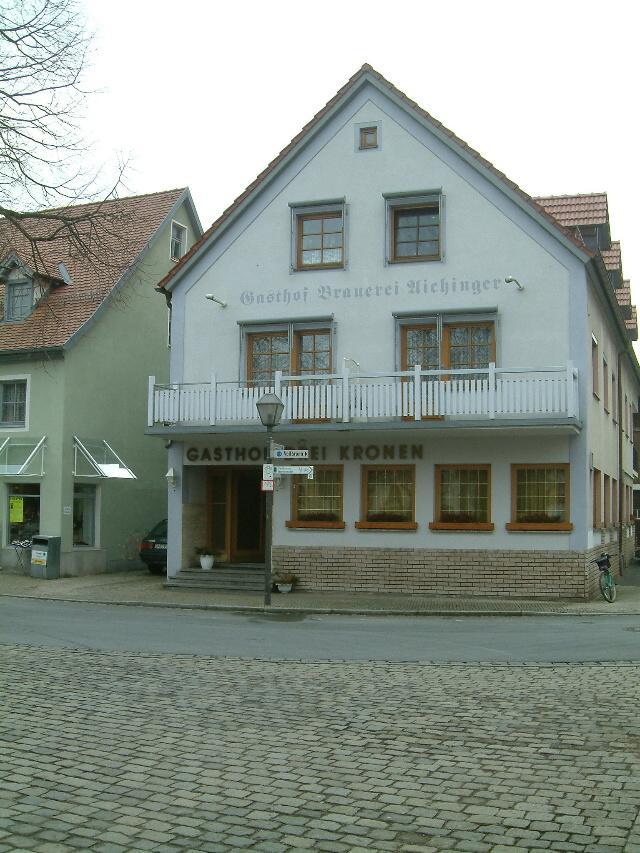 Brauerei Aichinger
Marktplatz 5
Heiligenstadt
91332
Small Brewery (less than 1000 hl/year)

0 91 98 / 5 22
Opening Times
Monday
08:00+
Tuesday
Closed
Wednesday
08:00+
Thursday
08:00+
Friday
08:00+
Saturday
08:00+
Sunday
08:00+
Back to the brewery search.
Other cities in the same district (Landkreis) as Heiligenstadt
---
More images of Brauerei Aichinger
---
Upload your own image of Brauerei Aichinger
---
Comments
Comment from Guppis on 2007-01-07 05:44:39
Took some friends for lunch and a Bier. Both were very good.
---
Comment from Jan-Erik Svensson on 2007-11-10 05:41:01
This is a must go place if you like old world atmosphere and beer. Pale brown Märzen colour. Extremly malty and aromatic with some fruit and a little hops to make balance. Perhaps not the cleanest of beers, but very sympathetic.
---
Comment from Jürgen Wening on 2008-05-08 03:09:59
It's so damn funny to pop in just to hear the grandma of the family swear and complain at everybody and about everything! Hope she'll be fine for the forthcoming decades!Always a good laugh. Nice old fashioned Spezial beer as well!
---
Comment from Russ R. on 2009-12-08 15:14:00
The Spezialbier was a wonderful, if simple, lager. The restaurant-style pub was welcoming and it was easy to linger.
---
Comment from barry on 2013-10-12 13:39:57
Really nice Stube - friendly crowd even on a Monday afternoon. Beer excellent, only complaint was that it was a little over carbonated but not so much. Very nice service from a youngish lady; inly sad thing was that the older lady proprietor did not live up to her reputation and said not a word! Well worth a visit.
---