Brauerei Keesmann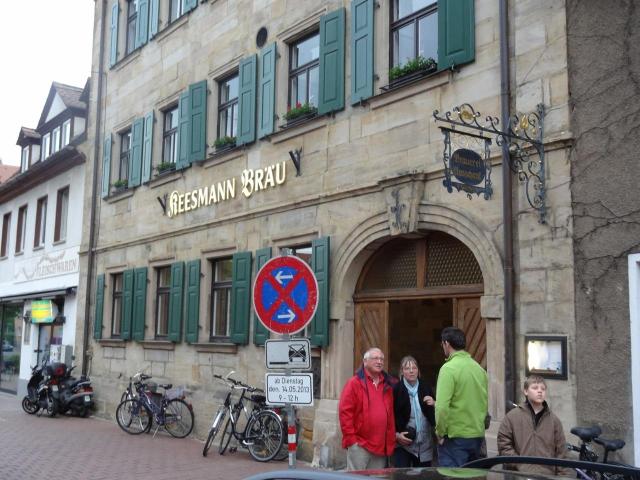 Wunderburg 5
Bamberg
96050

09 51 / 98 19 80

keesmann@bierstadt.de
Closes 3pm on Saturdays.
Opening Times
Monday
09:00-23:00
Tuesday
09:00-23:00
Wednesday
09:00-23:00
Thursday
09:00-23:00
Friday
09:00-23:00
Saturday
09:00-15:00
Sunday
Closed
Back to the brewery search.
---
Upload your own image of Brauerei Keesmann
---
Comments
Comment from Jan-Erik Svensson on 2003-04-16 04:56:21
The beer is a little blandish, but still a nice place to visit everytime you take a walk to Mahr's-Bräu.
---
Comment from Guy H. on 2003-04-30 15:15:07
Outstandingly aromatic and delicious pils, served in a proper .5 l glass (not in a frou-frou .3 l stemmed glass with a doily).
---
Comment from Tom Perera on 2003-04-30 17:34:21
Bamberg's best Pils.
---
Comment from Richard Sanders on 2003-07-23 18:00:35
Good locals pubs with fine beers.
---
Comment from JW Dirkse on 2003-10-08 14:31:08
Try the "Sternla" beer which is excellent. Great food too.
---
Comment from Mark Jamison on 2004-07-08 11:57:24
I am not a big Pils drinker, but the Keesman is one of the best I've had. The Sternla is also delicious.
---
Comment from Dave Brown on 2004-09-18 03:25:16
Can only agree that I think the Keesmann Herran Pils is the best Pils in Bamberg, and the food was excellent too.
---
Comment from scott rankin on 2005-02-02 03:26:11
I agree, the Sternla is outstanding.
---
Comment from Todd Ashman on 2005-06-29 13:45:16
Herren Pils is a great beer when you're looking for something lighter. Run across the street to Mahr's!
---
Comment from Dr. Heinzel on 2005-12-02 11:32:51
............tried all of the Bamberg Bock's this autumn, but the ´KEESMANN was the best. Very well balanced, very tasty and not "thick" at all !
---
Comment from Zupfer on 2006-03-06 21:18:35
Keesmann and Mahr in the Wunderberg are often mentioned in the same breath as the best beers in Bamberg. I cannot argue this point. I do not drink Kaiserdom and I suffer when I am in California.If you are there, you are lucky.
---
Comment from Martin T. on 2006-06-17 08:18:29
More modern decoration than most establishments in Bamberg, but then again for North America this would be old. Everyone there was drinking the Herren Pils from tap, so we followed along. It's a decent enough pils, but nothing special. The food though was a hit, the spargelsuppe (cream of white asparagus) was sumptuous, and the matjesfilets were equally delicate and flavorful. One of the best meals we had in our trip, but then again it doesn't take much to stand out there food-wise.

Sternla Unfiltriert Lager (bottled review):

Any first impressions?
-A bobbing head collapses into the peachy golden.
-Bready pils malt makes up a very shy aroma.
-Crisp herbal hop bitterness is splendidly balanced by the toasty, bready malts.
-The comfortable carbonation lets the suave maltiness take the lead.

What if you dig deeper?
-A knowledgeable herbal, earthy, leafy hop bitterness amicably remains.
-The biscuity bread crumbs come back after the hops' bitter scenario; this one is really balanced all the way.
-Well-crafted throughout...what else can you expect from these Franconians?

Herren Pils (tap review):
-Wooden hops reach lightly citrusy fruitiness in the aroma.
-Foam disappears within the clear, pale golden.
-This is very light-bodied, and bureaucratically clean.
-Spicy, wooden, herbal hops procure pleasant moments for the tastebuds.
-A beauteous bitterness produces a drying effect.
-Although a fun name, this Herren Pils is far from a "man's" pilsner.
-This is a well-made, flavorful yet accessible German pils, which doesn't feel Franconian at all, imho.
---
Comment from Andrew Clarke on 2006-11-19 14:10:47
The Herren Pils is the best pils in town. A super beer. Nice brewery tap too. Sternla also excellent. When visiting the Mahrs it is just over the road.
---
Comment from Andrew Clarke on 2010-07-26 03:54:47
11 of us went to Keesmann last Friday 23rd July. Herren Pils and Sterla were superb again. A brewery worth supporting. We had in total 5 beers there, 40 large and 10 small. Cost €115. Can't argue with that.
---
Comment from barry on 2013-10-11 03:51:27
Keesmann sufers from one big problem: it is adjacent to Mahrs! The 905 bus from ZOB stops on the Mahrs side of the street and I find it difficult to drag myself over! However, when I have overcome this difficulty, I do like Keesmann. A very light and airy bar, generally good service, mostly easy to get a seat and friendly customers. Others have commented on the Pils which, IMHO, is an ok beer but nothing to rave about. Ignore my first comments and give it a try - and then go to Mahrs!
---
Comment from Chris on 2018-04-06 10:19:44
Herren Pils might be my favorite beer in all of Bamberg. It's top 3 at the very least. The other beers are good, but nowhere near the same caliber as Herren. If you're craving other styles, head across the street to Mahr's. If you want a pils, Herren is as good as they get. Food-wise, they have a delicious platter of cured meats and cheeses ("Keesmann Platter") that I highly recommend. Good schnitzels, too, although it's not like there are many bad ones being served in town.
---