Brauerei Hummel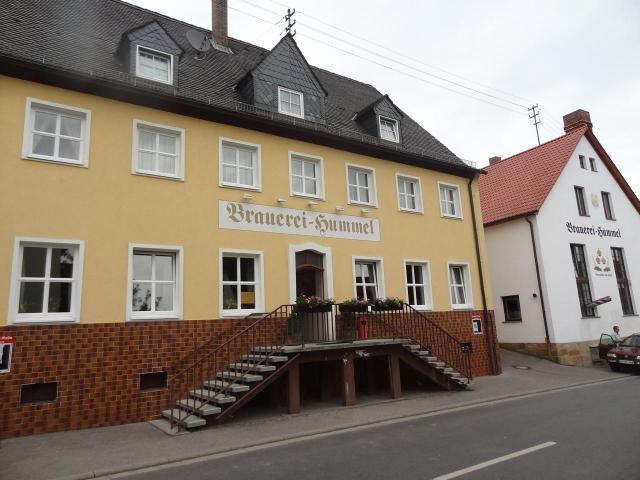 Lindenstrasse 9
Merkendorf
96117

0 95 42 / 12 47
Opening Times
Monday
09:00+
Tuesday
Closed
Wednesday
09:00+
Thursday
09:00+
Friday
09:00+
Saturday
09:00+
Sunday
09:00-12:00/15:00+
Back to the brewery search.
---
More images of Brauerei Hummel
---
Upload your own image of Brauerei Hummel
---
Comments
Comment from miller on 2003-03-20 06:40:22
Super atmosphere !!! The beer is very good, and also the food is great. Nice people here in Merkendorf. Thre`s also the "Biergarten" of Brewery Hummel called "Hummelskeller". There you can sit in summer under shady trees and enjoy a cold fresh beer when it is hot.
---
Comment from Jan-Erik Svensson on 2003-03-28 06:24:06
If you like the traditional Franconian taste, this is the place in Merkendorf. Some beers outstanding, some less so.
---
Comment from george reignwood on 2004-03-12 08:07:52
on of the best beers I ever drunk. There are 9 different sorts of beer (some seasonal). Great atmosphere, great service and the food is fantastic. The prices are very cheap for this quality. 1 Beer 0,5l costs 1,60 €(wow !!!) I´ll come back again.
---
Comment from Timothy Holian on 2005-02-16 23:16:48
Hummel-Bräu Merkendorfer Räucherla: Full amber color and a nice rich smoky aroma as per style. A balanced malty/smoky start gains even greater smoky character toward the finish, with decent balance between malt and hops. Only the presence of a slight sourness in the body detracts from this otherwise very enjoyable brew.
---
Comment from Nick B. on 2006-05-04 00:39:11
Wirklich super Brauerei--aber nicht nur wegen der Qualität der Biere, sondern auch weil es relativ viele Biere zu genie�en gibt! Schau mal an die nachstehende Bierkarte--als ich am Anfang Mai beim Gasthof zum letzten Mal war, gab es Pils, Kellerbier, Räucherla, Hefewei�bier, und Maibock vom Fass, und dann noch mehr in der Flasche. Schade dass ich noch nicht den Räucherator probierte...nächstes Jahr. [[[PARAGRAPH]]] A super brewery--not only because of the quality of the beers, but also because there's relatively many to enjoy. Look at the beer menü below--as I was there most recently at the beginning of May, there was Pils, Kellerbier, Räucherla, Hefewei�bier, und Maibock on tap, and yet more in the bottle. Too bad that I've not yet tried the Räucherator...next year. http://i80.photobucket.com/albums/j175/erlangernick/hummer_merkendorf_karte.jpg
---
Comment from Martin T. on 2006-06-17 10:14:45
This place is a real gem in the Franconian countryside. The brewer here is really having fun, and it shows. He had 10 available beers when we visited! This is particularly impressive when you consider the fact that most breweries around these parts are in the 1-4 beers range. Moreover, these beers were all at least decent, but in some cases brilliant. The 5 on tap were all clean and flavorful, the Pils being my favorite. Of the 5 bottled (which I brought back home), the Räucherator (smoked doppelbock) is the definite knockout imho, a truly complex, scrumptious, and never exaggerating lager. The place has your typical Franconian countryside decor, so a small room with long, wooden tables, and a group of old men playing cards. Classic. Check these guys out, they're only a few kilometers from Bamberg.

Räucherator Doppelbock (bottled review):
-A languid foam shield reigns atop the royal ruby red.
-A richly tapestried perfume projects salty red meats, earthy smoke, and therapeutic berry fruitiness.
-An expertly designed body of wealth and nourishment offers all of the flavors portrayed in the aroma, and then some.
-Wooden hop bitterness splendidly supports the generous maltiness.
-A superb smoked doppelbock, never excessive, but never timid, an object of beauty.
-Next time I'm in Merkendorf, I'm buying a lot more than a couple bottles.

Pils (tap and bottled review):
-Wealth reaches the nose in the form of hay, bread, and fresh cereals.
-Pretty lacing hangs above the scant head and clear golden gown.
-Huggable mouthfeels are intrinsic to Franconia apparently.
-Earthy, wooden, and grassy hops meld into a doughy, bitter finale.

Märzen (bottled review):
-A sheet of foam protects the clear, orange gown, drawing bubbly lacing.
-Bready, toasted maltiness evokes that of a wealthy pils.
-Wooden hops, pils malt, and orangey fruitiness converse in friendly tones.
-The body is rich, yet drinkable, a Franconian standard.
-Peaches deepen the aroma.
-Willful, supporting herbal hops convey ample bitterness.

Räucherla Märzen (tap review):
-A ring of head circles the clear copper/amber.
-A whispering fruity smoke makes up a diplomatic aroma.
-Flavor presents stronger smoke, and may be compared to Spezial's levels of smokiness.
-Earthiness closes the glass, along with drops of water.

Maibock Hell (tap review):
-A ring of head surrounds the clear golden.
-Aroma is bland for a maibock, a few more hops or honeyed malts would have been nice.
-Hay and honey do appear in the flavor profile, thankfully, ably balanced to an earthy hoppy bitterness.
-The soft effervescence is comfortable, and the malts know how to take advantage of this fact.
-A decent maibock hell, but Klosterbräu makes a much more enticing example, imho.

Kellerbier (tap review):
-A shy aroma proposes earthy hops and passionfruit.
-Earthy, wooden hops are tame for the style, I was expecting a little more hoppiness than the Pils, admittedly.
-The natural carbonation builds another stupendous mouthfeel.
-Bitterness is weak, this one is more about the malts' structure than most kellerbiers I've had.

Weissbier (tap review):
-Some tartness escapes the nose in the form of citrus fruit.
-Funky flavors whirl around the banana esters, leading to light tartness again.
-The creamy head atop a hazy yellow-beige had announced a classic weizen...
---
Comment from Guppis on 2007-01-07 05:40:08
I paid a visit to the Brauerei Hummel on 3 Kings Day and really enjoyed myself. Good food, good service and great Bier. I bought a case of the Bock to bring home with me...enough said.
---
Comment from Russ R. on 2009-12-08 15:43:20
More restaurant-orientated than it's neighboring brewery pub. But the beers are excellent and I left wishing I had more time to try them all. About 5 beers on tap and 6 in bottles! The Raeucherla was a lovely smoked marzen that I could had spent all day drinking. Highly recommended.
---
Comment from zoiglal on 2010-01-06 13:56:39
Great beer, Great food ..what a steak! The weiss bock is one of the best.... deceptively strong.....
---
Comment from DougN on 2010-09-23 09:52:03
My favorite place to stop for lunch just outside Bamberg. Good food, a consistently high quality selection of beers. With so many small breweries going out of business, I draw solace from the fact that Merkendorf can still support two great breweries.
---
Comment from 1LT Paco on 2013-01-27 12:51:54
A few of us did a walk in the area on a Friday afternoon in January and stopped here (and a few other places). A pretty big selection of beers -- all that we had were enjoyable. Did not have any food here. Traditional atmosphere with plenty of locals.
---