Löwenbräu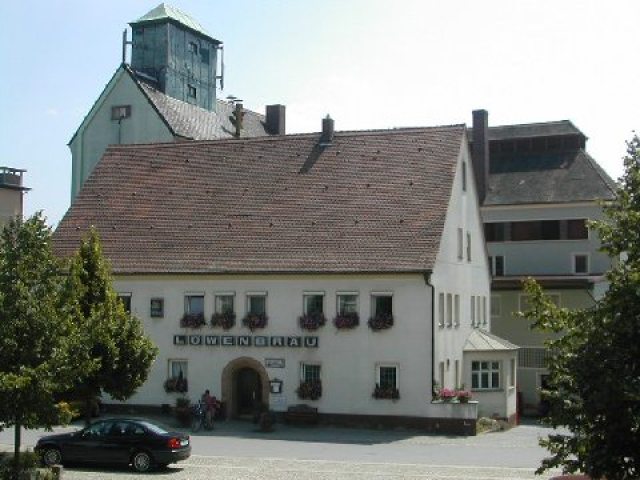 Marktstrasse 8
Buttenheim
96155

0 95 45 / 3 32
Opening Times
Monday
Closed
Tuesday
09:00-24:00
Wednesday
09:00-24:00
Thursday
09:00-24:00
Friday
09:00-24:00
Saturday
09:00-24:00
Sunday
09:00-15:00
Back to the brewery search.
---
Upload your own image of Löwenbräu
---
Comments
Comment from Dr. Heinzel on 2003-06-25 17:51:47
Very hoppy,dry Kellerbeer (also called "Lager"),worth a journey! The Brauereigasthaus is simple but quite cosy. Staff and food O.K..
---
Comment from Richard Sanders on 2003-07-23 17:57:03
On a hot summers day the beer tasted like nectar, especially when you have just cycled from Bamberg. Off putting though was the locals tucking into there Dumplings and Pork on one of the hottest days of the year.
---
Comment from Gerry Taylor on 2003-10-10 07:36:09
Discovered Lowenbrau-Buttenheim back in '97. Hospitality from Hansi was great, left with t-shirts and bottle of fest bier. Now, every time we go to Bamberg we always make the trip to Buttenheim. This summer we sat outside and had a fly swatting competition. The bier is good too - of course - but remember to close your lid unles you wish another bier... they like it that way.
---
Comment from Jim & Wendy Stebbins on 2004-11-01 12:23:44
The Lowenbrau Keller is located about a mile from the braueri. We have been there many times & its always full. They have great food,service & bier,including the heffe,hells,& keller.However,we did not care for their "Bock"bier,which had a bitter,light taste.It is as beautiful inside as well as the large bier garten, covered with huge trees & multi-levels of tables.
---
Comment from guppis on 2006-06-13 02:04:48
Good bier and biergarden. The better of the two breweries in town.
---
Comment from Andrew Clarke on 2006-11-19 12:37:40
Highly recommended. 13 of us visited here after St.Georgen on 11th November. We all really enjoyed it. Although Keller Bier not quite as good as their local rival(though still superb)the inn was much friendlier than St Georgen. Was a great atmosphere and we were allowed to buy a case of their excellent Bock for the bus back to Bamberg. Seemed like a good idea at the time! Bock very strong and tipped most of us over the edge!
---
Comment from Jan-Erik Svensson on 2007-11-10 06:09:26
Fresh and pleasant Kellerbier with some harshnes in the aftertaste. Nice Keller as well. The Pils and the Weizen were less characterful.
---
Comment from Andrew Clarke on 2008-07-03 14:59:39
Re-visited the Lowenbrau brewery tap on 20th June, 2008. The beer was just as good as we remembered and this time it was better than the St.Georgen which wasn't as good as in November 06. Good schnitzels too! Owner very friendly.
---
Comment from Russ R. on 2009-12-08 16:08:00
I was unimpressed by their Lagerbier and didn't stay to try the others. The pub was pleasant though, and I enjoyed my meal.
---
Comment from Ric McLaughlin on 2010-10-14 02:08:43
As a Bamberg resident, I can say with conviction that this is the best keller in the Bamberg area. The unfiltered Lager is the beer of choice and is great. The food is outstanding (try the wild hog). But what really sets this place apart is the friendly staff. It's not just my opinion either - the Buttenheim locals, as well as all the surrounding towns folk, go here instead of the more well known St Georgen Brau. Hidden gem of a place.
---