Ambräusianum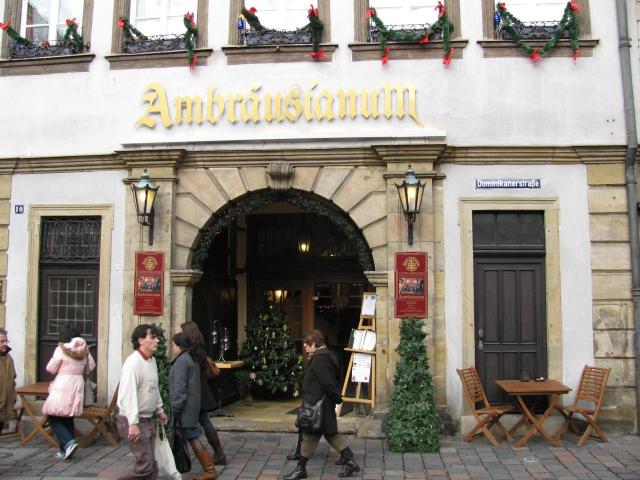 Dominikanerstrasse 10
Bamberg
96049
Small Brewery (less than 1000 hl/year)

09 51 / 5 09 02 62

info@ambraeusianum.de
Bambergs newest brewery (opened 2004), just two doors down from Schlenkerla
Opening Times
Monday
11:00-23:00
Tuesday
11:00-23:00
Wednesday
11:00-23:00
Thursday
11:00-23:00
Friday
11:00-23:00
Saturday
11:00-23:00
Sunday
11:00-21:00
Back to the brewery search.
---
More images of Ambräusianum
---
Upload your own image of Ambräusianum
---
Comments
Comment from Fraser McDonald on 2004-09-03 03:55:03
Excellent helles although at first I mistook it for a weisse it was so cloudy. The dunkel and the weisse are good examples of their type. I look forward to seeing how the beers develop as the brewery ages. Good food and service as well.
---
Comment from Bierman9 on 2004-10-09 11:43:05
Following is my review, which was originally posted on www.beeradvocate.com. This pub was visited on 26SEP04. BierManVA, his friend Mark and I had just finished a great round of Rauchbier at Schlenkerla. We exited there on our short Bamberg Bier tour and headed to the "new place". I joked to them "Let me lay some BA on them!". We entered the place and I recognized the owner, Herr Mahr, from some internet photos. He was at the service bar, and we sauntered over. I showed him a BA card and said we were interested in his new place and were going to try some Biers. He welcomed us and said he offers a Weizen, Helles and Dunkel, plus Schlenkerla Rauch as well. He recommended the Weizen, as his best offering. Cool! We had a round and I asked to pay; he said "No problem, it's on me!" Way cool! We took our Biers and grabbed a table for some lunch. This is a nice-looking place; different from the typical Bamberg pub in that it's actually bright and airy! There's a cheery look here, with lots of light wood, both in the furniture and in the big-ass beams supporting things. The place is long and narrow from front to back, with tables to the right and left upon entering, the service bar near mid-room on the right, brew-kettles a bit further on the left, and more tables in an upstairs/downstairs courtyard area near the back. The wood is incorporated around some heavy stone archways existing from many years ago. A pleasant mix of modern German with the old original architecture. No music was heard playing, just the happy banter of Bier-drinking patrons. Service, in addition to Herr Mahrs hospitality, was friendly and efficient. We all agreed that the Weizen was indeed a tasty Bier, and the Würstplatter and Schnitzels we downed were well-made, ample and filling. Thnx to Herr Mahr for making our visit all the better. Please stop by when in downtown Bamberg. Prosit!!
---
Comment from Jim & Wendy Stebbins on 2004-10-17 09:00:15
We were in the braueri several times before the renovation & new ownership. The food has always been great & so has the bier. It now has a better, more airy & cheerful atmosphere.I love the addition of the copper brew kettle.We met some very fun & interesting Germans from Auschafensburg, during the "Sandkerwa" Festival in August. Spent the entire afternoon trying the different biers with them. No complaints about this place & the bier was great.We recommend it during your visit.
---
Comment from scott rankin on 2005-02-02 03:23:35
I agree it is very nice inside, but the beer leaves very much to be desired. I have been here numerous times hoping it would get better, but it hasn't.
---
Comment from Jussi Rokka on 2005-02-02 08:33:25
The place is very nice and has a good atmosphere, but - sadly - the beers are as yet not in the same quality bracket as the other Bamberg breweries. And it doesn't help when you get a feeling of unclean beer lines in the taste. As I'm only a casual visitor, that hopefully was just bad luck.
---
Comment from Andrew Clarke on 2006-11-19 13:56:31
Visited here on evening of 11th November,2006. Would have to agree with the last two contributors. Lovely place, great food but beer just not as good as other local breweries. Reminded me of US brewpub. Similar beer too. Very heavy, unfiltered but unsatisfying. Somewhat cloying.
---
Comment from Edo on 2007-01-02 11:43:14
The place looks neat, and well taken care of. Like a modern German Brewpub instead of an old Franconian Brauereigasthof. The beers were rather disappointing, even the Ambräusiator Doppelbock. Luckily they served samplers of their beers.
---
Comment from Jan-Erik Svenson on 2007-11-10 04:48:00
Standard modern German craft brewery with no particular connections to Franconian brewing culture. The beers are clean but lack character.
---
Comment from barry on 2013-10-11 03:38:35
Update to comments immediately above. Not recommended, seems to be aimed at capturing tourists in the area. Very mediocre beers with little charactor. Stay in Schlenkerla!
---