Brauerei Griess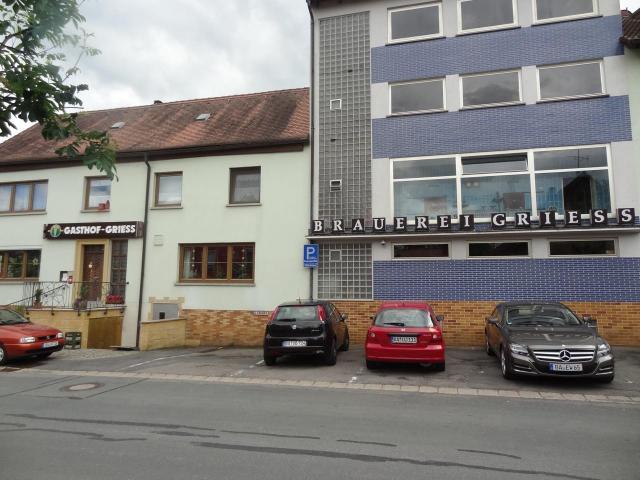 Magdalenenstrasse 6
Geisfeld
96129

0 95 05 / 16 24
Opening Times
Monday
15:00-22:00
Tuesday
15:00-22:00
Wednesday
Closed
Thursday
15:00-22:00
Friday
15:00-22:00
Saturday
10:00+
Sunday
15:00-22:00
Back to the brewery search.
---
More images of Brauerei Griess
---
Upload your own image of Brauerei Griess
---
Comments
Comment from Dr. Heinzel on 2003-12-02 16:00:14
A well balanced amber coloured Kellerbier; full bodied flavour with a smooth, dry and hoppy finish. Worth a journey!
---
Comment from guppis on 2006-06-13 01:59:47
Sitting in biergarden is a must. Good bier and a good choice of Franconian snacks. One of my favorite stops.
---
Comment from Andrew Clarke on 2006-11-19 14:30:36
Agree with other reviews. Friendly service,good local fare washed down with a fine Kellerbier. Outside very 70's!
---
Comment from Jürgen Wening on 2006-12-14 13:53:29
A very flowery but spicy Kellerbier with an unusual bright golden colour. Among the best I know. Deserves more attention!
---
Comment from Jan-Erik Svensson on 2007-01-28 04:33:17
Soft, fruity-and-dry Lagerbier with some hops.
---
Comment from Mark Andersen on 2009-09-24 12:34:34
Sadly their Keller was closed the day we visited in July 2009 due to the rain so we settled for the gasthof and enjoyed the Kellerbier along with some lunch. Very friendly people.
---
Comment from barry on 2013-10-12 13:32:11
Sorry, but I just do not like this beer. In the keller, it was very flat and tasted like yesterday's beer (or maybe the day's before that). It has a peculiarly metallic bitterness that leaves an unpleasant aftertaste. Ditto that of the Stude, which, at least was not flat but still not to my taste. Also, not the friendliest host.
---
Comment from Paul on 2014-12-25 15:21:20
Sorry Barry but the kellerbier is one of my favorite beers around Bamberg! Love it thumbs up! Always fresh and a great service. Its just a nice place
---