Klosterbräu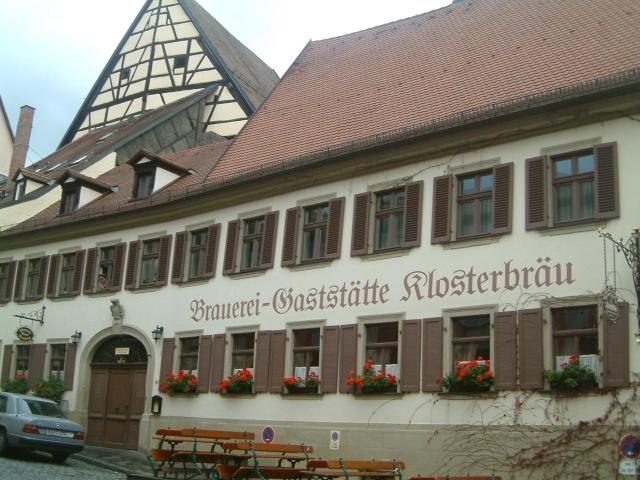 Obere Mühlbrücke 3
Bamberg
96049

0951 52265

mail@klosterbraeu.de
Opening Times
Monday
10:30-23:00
Tuesday
10:30-23:00
Wednesday
10:30-23:00
Thursday
10:30-23:00
Friday
10:30-23:00
Saturday
10:00-23:00
Sunday
10:00-23:00
Back to the brewery search.
---
Upload your own image of Klosterbräu
---
Comments
Comment from Jan-Erik Svensson on 2003-04-16 05:09:09
Like in a fairy-tale. The beers are great and differ clearly in character and taste (that is not always the case in Franconia). Very narrow and cobbled and half-timbered. The Gaststätte looks very traditional (especially the Braunbierstübla), but it has only existed since around 1990.
---
Comment from Guy H. on 2003-04-30 15:29:35
Get a Braunbier, sit in the tiny sliver of a courtyard, admire the ancient walls around you and you're transported back centuries.
---
Comment from Tom Perera on 2003-04-30 17:36:50
I'm always surprised how good this place is. You slip back in time in this small rustic room.
---
Comment from Richard Sanders on 2003-07-23 17:57:58
Good beer in nice surroundings. The foods not bad either.
---
Comment from Ron Pattinson on 2003-12-14 00:09:20
I would like to clear up a point about the age of the Klosterbraeu gaststaette. I have a guide book to Bamberg published in 1918 and it contains a photograph of the pub. The exterior is almost exactly the same, except that a small outside seating area has been added.
---
Comment from scott rankin on 2004-04-14 02:27:19
Awesome beer. Great taste and i second that motion about the Braun Bier. Also very friendly service and some attractive waitresses that you wouldn't expect in a brewery.
---
Comment from Nick B. on 2004-07-27 09:58:00
Where to begin? Well, let's try the beginning! During my first stay in Bamberg Klosterbräu became my "local" and, accordingly, it has retained a special place in my heart. Klosterbräu offers more variety than perhaps any other brewery in Bamberg, with a changing range of Schwarzbier, Braunbier, Weizen, Pils and Bock to name but a few. Furthermore, all of the beers are of exceptional quality and most can be sampled from tap. How fondly I recall the reaction of a friend from Berlin when he first tasted the renowned "Schwärzla". He couldn't believe how terrific it was. However, his disbelief was pleasantly doubled when, accustomed to the capital's ever increasing prices, he received the bill for six beers! Klosterbräu offers the best service in Bamberg to boot, and the other guests are always a pleasure. On one particularly memorable occasion I ended up singing an improptu rendition of a famous song by Walter Flex with a gentleman from Dresden. The free Schnaps, also distilled at the brewery, flowed freely after that unforgettable episode. Klosterbräu deserves more attention than it currently receives, whether it be in relation to its beer, atmosphere, food (the traditional dishes are lovely) or simply the buildings which house the brewery tap. In my opinion it is at least twice as good as the much-praised Brauerei Mahr and a true gem.
---
Comment from Dave Brown on 2004-09-18 03:36:13
I think the Klosterbräu is about the atmospheric place in Bamberg, although I have never seen it full. The Braunbier was good, and the Schwärzla excellent.
---
Comment from Jim & Wendy Stebbins on 2004-10-17 10:07:16
We can not say much about the Klosterbrau, except the bier was good,but sparse surroundings with little atmosphere, & very few people,everytime we visited.We recommend travelling up the hill further to the "Wilde Rose" Keller or "Specialten" Keller.
---
Comment from Zupfer on 2006-03-06 20:45:11
The oldest brewery in Bamberg. The favored hangout of friends of mine until the renovation in the early 1990s. I still go there sometimes and often sit in the courtyard with an old friend who is also a local tour guide. Try the Braunbier and the Schwaerzla. Their beer glasses with the portaits of the former bishops of Bamberg are beautiful and for sale.
---
Comment from Martin T. on 2006-06-17 08:32:12
Beautiful establishment, the oldest still-running brewery in Bamberg. The beers are very good (especially the Maibock Hell, if you are in season), and the food is your classic regional fare. Staff is indeed very friendly, lively, and very helpful. This place is worth revisiting every time you're in Bamberg, I'm sure.

Maibock Hell (tap and bottled review):
-Ample foam protects the clean bronze/golden, and laces admirably.
-At first, honey and alcohol is prominent in the nose, not unlike the Czech světlé speciální sub-style.
-Straw and wooden hops soon attempt to balance out the sleek aroma.
-Flavorwise, a haystack stands guard and keeps the alcohol and sweetness in check.
-The frothy carbonation lightens the deal, but the body is pretty lean anyway.
-Apple and pear fruitiness brings it even closer to drinkability.
-A healthy peppery, herbal hoppiness builds in the back, fitting with the hay.
-This just gets better as you get acquainted to it, and delve deeper into your pint.

Schwärzla (tap review):
-Plenty of foam tops the blackness and its brown and amber highlights.
-Roasted maltiness and raisins tingle in the nose.
-Roastiness mingles with the caramel sweetness, as figs and raisins communicate healthily.
-Carbonation isn't overdone, letting the malts express themselves.
-Aftertaste is quietly roasty, and dark chocolate expresses humble origins.
-This is a well-built schwarzbier, simple and straight to the point.

Gold-Pils (bottled review):
-A veil of head drapes the clear, deep golden hues.
-Bready, toasty pilsner maltiness is nicely laid out in the aroma.
-Straw slowly dries out the cushiony pils malt flavors.
-The full maltiness and doughy body is very enjoyable.
-Finishes predictably, but still pleasantly, with decorous herbal hop bitterness.
---
Comment from Guppis on 2006-07-27 01:42:51
great dark bier. went well with a cheese plate.
---
Comment from Andrew Clarke on 2006-10-22 14:53:42
lovely old brewery but when we visited in August 04 we felt that the beer was not among the best we had had in Bamberg. However, we didn't sample the full range ad perhaps we just hit it on an off-day. Will report back after next month's tour to see if it is better then. Most of the other reviews give me great cause for optimism.
---
Comment from Chris on 2018-04-06 10:29:05
After a few "down" years where their beers weren't up to snuff, things are back to being among Bamberg's finest. I believe they were acquired by Kaiserdom in 2016 but they kept the staff and pumped some money into the place. Either way, the Brainbier and Schwarzbier are both terrific. They also don't taste like anything else you'll find in the area. As long as the quality stays high, it's arguably my favorite stop.
---