Brauerei Drei Kronen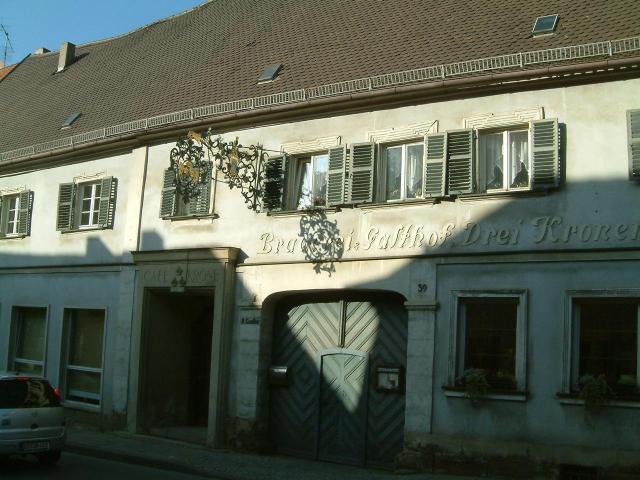 Hauptstrasse 39
Schesslitz
96110
Small Brewery (less than 1000 hl/year)

0 95 42 / 15 64
Opening Times
Monday
09:30-13:00/17:00-23:00
Tuesday
09:30-13:00/17:00-23:00
Wednesday
Closed
Thursday
09:30-13:00/17:00-23:00
Friday
09:30-13:00/17:00-23:00
Saturday
09:30-13:00/17:00-23:00
Sunday
09:30-13:00/17:00-23:00
Back to the brewery search.
---
Upload your own image of Brauerei Drei Kronen
---
Comments
Comment from Jos Brouwer on 2003-01-31 12:18:30
Drei Kronen in Schesslitz is absolutely one of my favourites. Good beer in a small, family run brewery. Basic brewery tap, good beer, good food. The history of a whole range of Drei Kronen breweries starts here, a photocopy of an old licence to brew beer is displayed in the tap room. Don't miss the Weizenbock!
---
Comment from Jan-Erik Svensson on 2003-03-28 02:22:17
There are only few beer drinking spots in the world with such an old-world atmosphere as Drei Kronen. And the beer used to be among the softest and most elegant in Franconia. But I have the feeling that the hop character has decreased. If it's true, it's a pity.
---
Comment from Tom Perera on 2003-07-08 05:28:59
A friendly place with very fine beer. If you're in the area and you don't stop in.....it's just unthinkable.
---
Comment from 32Hotel on 2003-11-02 13:02:21
Is this the 1308 Bier in Strassgiech? Owned by Hans Gerner? Bought by a South African Brewery and then reaquired by the Gerner Family. Excellent beer.
---
Comment from Dr. Heinzel on 2003-12-02 16:06:26
Amber coloured pale Lager, complex, full bodied brew. The Brauereigaststätte makes You feel living in the 19th century.......
---
Comment from Fraser McDonald on 2005-08-31 04:49:29
Well worth the bus journey from Bamberg. I was going to try all the beers but the lager was so good I just couldn't bring myself to change.
---
Comment from Martin T. on 2006-06-17 10:00:31
We waited for the place to open up for dinner after their midday break (from 2 to 5), but at 5:15 there was still no sign of anyone inside. The door was open though, so we walked about in the schwemm until the matron showed up. She looked obviously worried that we wanted to eat something (the lights had remained closed in the Gaststätte), but luckily I was only there for a taste of their ungespundetes Lagerbier, otherwise known as Schäazer Lagerbier. So the grandmotherly matron set me up in the yard at the back of the schwemm, between the pub/restaurant and the actual brewery. The Lagerbier was rich and very drinkable, a very good example of Franconian brewing knowledge. I wouldn't mind coming back here to get a bottle of their Weizenbock, or just to sit in the small Gaststätte and actually get a better feel for the place.

Lagerbier (tap review):
-A huge head sits atop the golden transparence, receding to a veil.
-Creamy cereal delicately attract and deliver what they had promised.
-Straw and toasted malts are carefully carved.
-Moist passages encourage drinkability, but this one goes a little too far I think.
-Again, the soft carbonation helps the mouthfeel.
-Aftertaste is shy, with some supporting, wooden hops.
-Maltiness evolves into delicate honey sweetness with time.
-Another Franconian lager which grows on you the deeper you get into your pint.
---
Comment from Mark Andersen on 2008-04-08 12:53:24
Had dinner and a couple of beers at this nice, simple, old style pub. The food was very inexpensive, filling, and quite delicious. Just like homecooking. The beer was also very good. Friendly service too.
---