Brauerei zur Sonne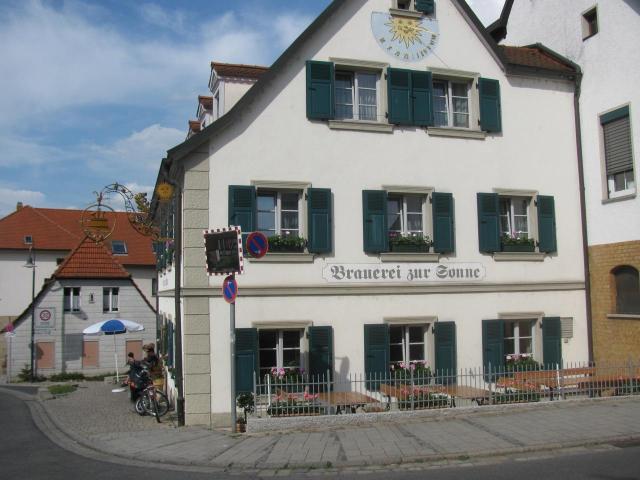 Regnitzstrasse 2
Bischberg
96120

09 51 / 6 25 71
Opening Times
Monday
09:00-01:00
Tuesday
Closed
Wednesday
09:00-01:00
Thursday
09:00-01:00
Friday
09:00-01:00
Saturday
09:30-01:00
Sunday
09:30-01:00
Back to the brewery search.
---
Upload your own image of Brauerei zur Sonne
---
Comments
Comment from Jan-Erik Svensson on 2003-05-09 04:58:22
Soft, full-bodied, golden beer with a fudgy roundness.
---
Comment from Christoph Först on 2003-08-22 06:06:07
I'm from Bamberg but I prefer the beer of the surrounding villages. My personal favourite is Brauerei zur Sonne in Bischberg because of its incredibly good taste. I recommand every visitor of Bamberg to pass by in the Sonne - you won't regret it. The staff is very friendly and if you feel hungry, they serve a good "Brotzeit".
---
Comment from Eric " son of the sun" on 2003-08-25 09:52:50
i totally agree with christoph foerst. cheers
---
Comment from Sebastian Burgis on 2003-08-27 12:45:08
I totally agree with eric "son of the sun". Prost
---
Comment from Thomas on 2004-03-19 13:30:33
Kirchweih in Bischberg starts before the first sunday in september. It's one of the best beer in the surroundings of Bamberg !
---
Comment from Dr. Heinzel on 2004-07-27 08:12:15
The yellow-golden Vollbier is not too aromatic and has a sticky aftertaste.
---
Comment from Jim & Wendy Stebbins on 2004-10-17 08:30:35
The bier was very smooth, with a light taste. We found the gaushaus to be very clean & quaint with large heavy beams in the ceiling, traditional german decor, etc. The service was good also.
---
Comment from Jojmaster on 2005-01-19 10:08:30
Yeah, Sonne Bier is the best beer of the world. But it is the only highlight in Bischberg. People only come to Bischberg to drink a fine Sonne Bier. In addition it smells like dead fishes. Regards to my friends Christoph and Eric, the Jojmaster
---
Comment from scott rankin on 2006-05-29 06:24:46
Wow! A great experience. The beer was good and the people were even better. Invited to sit at what could only be considered the stammtisch and was treated to a great evening.
---
Comment from Jürgen Wening on 2008-08-13 12:24:10
Despite its paleness the Sonne-Vollbier is a full bodied and aromatic brew. The dark beer (pale as well... for a dark beer) is similar in style, but slightly maltier. Very friendly people. Didn't try the Pils, because I had to drive.
---
Comment from Russ R. on 2009-12-08 15:57:27
Cute pub easily reached from Bamberg. The Dunkles was pleasant but unremarkable. What was remarkable was how bad the service was! I wanted to try a second beer but ended up waited to long to order that I had to pay instead. Oh, well. Lot's of other good places to try nearby.
---
Comment from barry on 2013-10-12 13:17:30
Shared a lovely afternoon with Frank. Amazing, a 20 minute local bus journey from Bamberg zob and your in a typical Franken country brewery. An excellent kellerbier vom Fass and a very tasty Dunkles vom Flasche. Highly recommended.
---