Mühlenbräu
Mühlendorf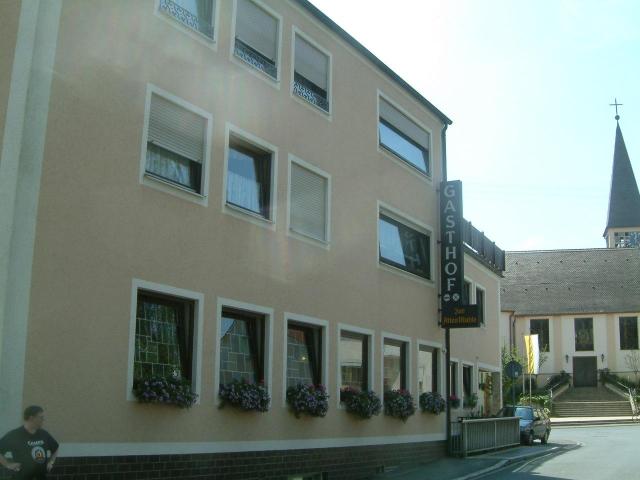 Mühlenbräu
Brückenstraße 19
Mühlendorf
96135

09 51 / 2 91 19
Opening Times
Monday
16:00+
Tuesday
Closed
Wednesday
11:00+
Thursday
11:00+
Friday
11:00+
Saturday
11:00+
Sunday
11:00+
Back to the brewery search.
Other cities in the same district (Landkreis) as Mühlendorf
---
Upload your own image of Mühlenbräu
---
Comments
Comment from Michael on 2004-09-16 22:04:44
Bus Line 12 leaves frequently (every hour)from Bamberg Zentraler Omnibusbahnhof (ZOB) There are also some new beers: Eremitentrunk (special beer for 700 year ceremony of mühlendorf)
---
Comment from Jim & Wendy Stebbins on 2004-10-17 11:20:39
One of the first gaushaus we visited when we first moved to Germany.Very large place,warm,friendly atmosphere,great food & bier.The owner,George,makes a point of visiting every table to ask how everything is.He even gave us our own krug.We really appreciated that & he spoke good English & enjoys American company,reminicing about "days gone by" during the days of the "cold war" when so many Americans frequented his establishment.They have good business & its very clean.
---
Comment from Sean McCambridge on 2005-06-12 08:38:04
Nice little place. Tasty beer. Super fun bike ride through the woods to get there. Get a map (Radwegkarte). And there are more in the area.... :-)
---
Comment from Jürgen Wening on 2006-07-31 14:23:35
A sweetish, easily drinkable beer for girls! No, I am not a sexist. It's just... I prefer beers which you can talk about. This one's very simple, but satisfying enough.
---
Comment from Jan-Erik Svensson on 2007-11-10 05:24:00
Pleasant, fresh Kellerbier and a big sweetish Bock.
---
Comment from Russ R. on 2009-12-08 16:15:13
A large, friendly restaurant just outside of Bamberg and easily reached by city bus. A very nice Dunkles was bested by the Bock Dunkel which the owner proclaimed "the best beer I've every made!" I greatly enjoyed my visit and look forward to visiting again.
---