Brauerei Göller
Drosendorf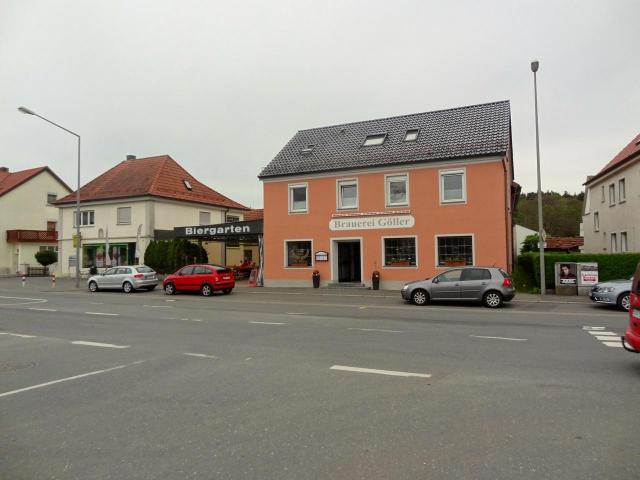 Brauerei Göller
Scheßlitzer Straße 7
Drosendorf
96117
Small Brewery (less than 1000 hl/year)

0 95 05 / 17 45
Opening Times
Monday
Closed
Tuesday
09:00+
Wednesday
09:00+
Thursday
09:00+
Friday
09:00+
Saturday
09:00+
Sunday
09:00+
Back to the brewery search.
Other cities in the same district (Landkreis) as Drosendorf
---
Upload your own image of Brauerei Göller
---
Comments
Comment from Jan-Erik Svensson on 2003-03-31 08:49:32
A dryish and straightforward dark beer.
---
Comment from Richard Sanders on 2003-08-22 20:24:12
Basic type pub with large beer garden at the side and back. Beer served from hatchway. Beer reasonable. Bus terminates opposite the pub.
---
Comment from bryan b on 2003-10-05 19:21:12
My best expierence in Germany was at this brewery. Very friendly staff. Brew master made a point to come to visit with us to discuss beer and to tell general stories about the area. We were there for the "Day of Beer" in April. Strongly recomended.
---
Comment from Paul Schultz on 2004-05-07 00:00:00
The staff is friendly and ensures my glass is quickly refilled. I really enjoyed sitting in the biergarten drinking a pilsner. Georg and Kunigunda work magic in the kitchen.
---
Comment from scott rankin on 2004-09-08 03:37:46
Herr Goller is great, most of the time. Good beer and wonderful dorf. Bob and Andrew give this quaint town its old world charm.
---
Comment from Jim & Wendy Stebbins on 2004-11-14 09:12:49
A quiet, large gaushaus with good food & friendly staff. The bier was a very good, full-bodied, taste. I recommend a visit, located on the main street of Drosendorf.
---
Comment from Nick B. on 2006-05-04 00:04:05
Zum Tag des deutschen Bieres brauen sie "Gögla": ein schmackvolles, dunkles Bier. Der Name ist natürlich etwa fränkisch--ein Wortspiel mit der Namesfeier Georgs, die am Tag des deutschen Bieres fällt. Echt empfehlswert. Ein paar Fotos des Gartens sind am Ende dieser Anmerkung zu sehen. For the Day of German Bier, they brew "Gögla": a dark, full-flavored beer. The name is of course a bit Franconian--a wordplay on the Nameday of St. George, whose nameday falls on the Day of German Bier. Highly recommended. A couple of photos of the garden: http://i80.photobucket.com/albums/j175/erlangernick/goeller_drosendorf_pan.jpg http://i80.photobucket.com/albums/j175/erlangernick/goeller_drosendorf_garten.jpg
---
Comment from hopfkopf on 2006-05-05 13:24:13
goller gut!!!
---
Comment from Dave on 2008-11-25 10:04:23
I was invited to stay at this hotel as a friend. I was treated like family. The food was great. The staff was outstanding. Most important the Beer was remarkable. Thanks for the great memories.
---
Comment from Russ R. on 2009-12-08 15:46:21
Pleasant pub and restaurant. The Weizenbock tasted like a regular Weizen. When I asked for a small taste of the Dunkelbock I was awarded a 90% full half-liter glass! A pleasant experience.
---
Comment from JIM on 2010-01-19 09:27:02
MY FAMILY AND I LIVED AT GASTHOF GOLLER FROM 1973 TO 1975 WHEN I WAS IN THE ARMY. WE WENT BACK TO VISIT A FEW YEARS AGO. WE HAD A VERY GOOD EXPERIENCE HERE. GREAT FAMILY, GREAT BEER, GREAT FOOD, GREAT MEMORIES.
---
Comment from 1LT Paco on 2013-01-27 12:59:06
Stopped here on a Friday afternoon while walking around the area in January. Drank two beers, I don't remember much about them (sorry). Also had a bit of lunch -- the typical rural Bavarian stuff. Charming place, plenty of other customers there as well. Glad to report it is alive and kicking.
---
Comment from Mark Andersen on 2015-05-25 09:52:35
Visited in late July 2014. Took the bus out from Bamberg. We arrived a bit early but they were happy to let us sit at one of the outside tables out front. They were very pleasant about it. We realized later there was a larger beer garden in back.

They have a few different beers. I had the lager and the Rauchbier. Both were good.

Easy to get to by bus and one can also walk to Merkendorf from there in a matter of a 1/2 hour or so.


---