Brauerei Mainlust
Viereth
Getting there by bike:
From Bamberg head NE to Guastadt and pick up the Rhein-Main-Donau canal bikepath heading west. Vierth is about 10km from Bamberg city center. The path is fairly level riding.
More information on Viereth can be found at www.viereth-trunstadt.de (German)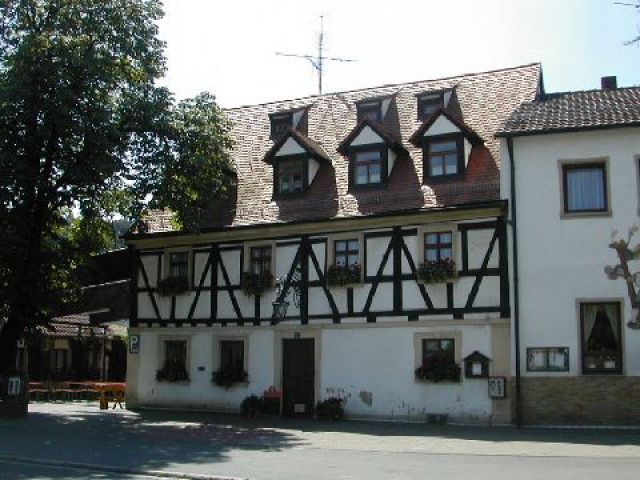 Hauptstrasse 9
Viereth
96191

0 95 03 / 74 44

Mainlust@aol.com
Opening Times
Monday
08:00-23:00
Tuesday
08:00-23:00
Wednesday
08:00-23:00
Thursday
08:00-23:00
Friday
Closed
Saturday
08:00-23:00
Sunday
08:00-23:00
Back to the brewery search.
Other cities in the same district (Landkreis) as Viereth
---
Upload your own image of Brauerei Mainlust
---
Comments
Comment from Jan-Erik Svensson on 2003-03-28 02:27:52
This brown beer has no counterparts as far as I know. It is drier than any of its neighbours. A real old-world beer, as lagers could have tasted "before Hansen". Don't miss it.
---
Comment from Justin Mace on 2003-07-23 13:01:42
I've been to Mainlust no less than 100 times... My uncle lives right around the corner, which is convenient on those late nights. I know the family owners well and they are very nice people. I was born and grew up in California and currently reside in San Francisco, but this remains one of my most favorite places and beers in the world. (By the way I believe Wednesdays are Schnitzel nights, not to be missed!)
---
Comment from Jim & Wendy Stebbins on 2004-10-17 08:53:36
This gaushaus has a very friendly atmosphere with good,"hausmacht essen"(home made food) The hackbraten (meatloaf) & schnitzel, came with vegetables & there were large portions. The bier was slightly bitter with a light taste.We would recommend this for a family setting.
---
Comment from Clint Motteler on 2005-03-23 10:02:57
I am stationed here with the US Army. This Guest house is excellent. The beer on tap is unique, and prices are very reasonable. I can take my family (4) and eat for 30 Euros or less and enjoy a few beers only 1.50 Euro each. Food has been excellent, and the Bayer (local name) supports the local town band which I am a member. Very friendly folks.
---
Comment from Ben und Elfriede Sessions on 2005-04-24 12:52:58
We live near Houston,Texas.Elfriede is from Bamberg.We go to Germany yearly and the Mainlust is A++ for food, friendliness, and the fantastic Fluessiges Brot[Liquid Bread, (Beer)]. bensessions@yahoo.com
---
Comment from Jürgen Wening on 2008-04-03 01:24:26
Charly and me started the testing season with Mainlust beer. A hell lot of bubbly carbondioxide (is that right?) and a very weak beer. According to the beautiful reddish colour, we expected more. Even the cheesesandwich overwhelmed the taste. Hm.
---