Brauerei Hoh
Köttensdorf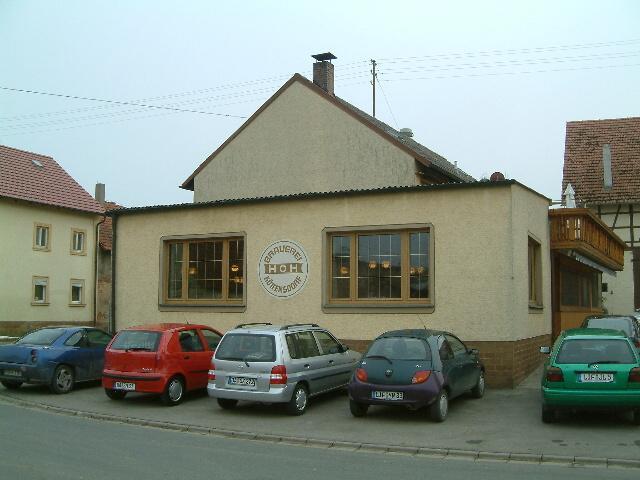 Brauerei Hoh
Small Brewery (less than 1000 hl/year)

0 95 42 / 6 27
Famous for their Pepper Chicken.
Opening Times
Monday
15:30+
Tuesday
15:30+
Wednesday
Closed
Thursday
15:30+
Friday
15:30+
Saturday
15:00+
Sunday
15:00+
Back to the brewery search.
Other cities in the same district (Landkreis) as Köttensdorf
---
Upload your own image of Brauerei Hoh
---
Comments
Comment from Jan-Erik Svensson on 2003-03-31 05:12:02
A simple, rural beer with low bitterness but a considerable soft, sweetish body.
---
Comment from 32Hotel on 2003-11-02 13:06:51
More than a simple rural beer. It is the standard. Of course I lived in Peulendorf, about a click down the street, for three years. Brauerei Hoh was our favorite place to go on Sunday afternoon for beer and chicken. A quality beer with good friends- made a big influence on my family.
---
Comment from Jim & Wendy Stebbins on 2004-11-14 09:15:32
This is a very rural brauerei, with chicken as their specialty & a wonderful bier.A very large & warm place with friendly staff.The chickens are raised in the backyard.
---
Comment from Sean McCambridge on 2005-04-29 06:10:32
Great experience! We rode our bikes from Bamberg (about an hour) through nice countryside and great bike paths, one of which was brick tile and wandered off into a field of yellow flowers away from the road, to Koettensdorf. This brewery serves one beer, a stronger-tasting Lagerbier. The chicken was the best since I left the States seven months ago. Very country, "Dorf-y" atmosphere with friendly locals. Recommended.
---
Comment from Guppis on 2007-11-30 07:02:07
Great Bier, great chicken, great hosts. I will make it a regular stop.
---