Brauerei Neder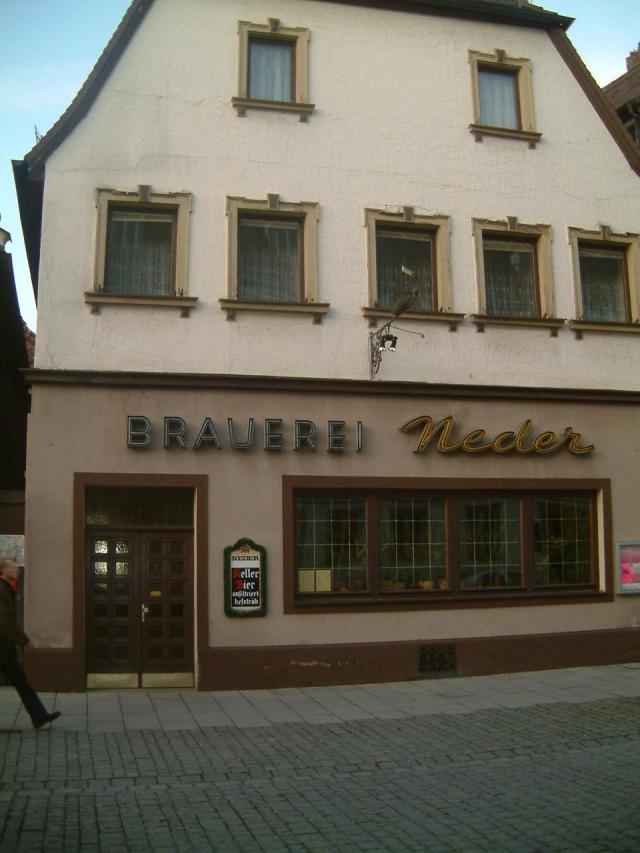 Sattlertorstrasse 10
Forchheim
91301

0 91 91 / 24 00
Opening Times
Monday
10:00-22:00
Tuesday
10:00-22:00
Wednesday
10:00-22:00
Thursday
10:00-22:00
Friday
10:00-22:00
Saturday
10:00-22:00
Sunday
09:00-14:00
Back to the brewery search.
---
Upload your own image of Brauerei Neder
---
Comments
Comment from Jan-Erik Svensson on 2003-04-01 06:58:10
A nice brewery with nice, soft beer.
---
Comment from Dave Brown on 2004-09-18 03:43:43
Full of locals when I went there, it, like the Hebendanz next door, appears to be a working class boozer that caters for it's market. The beer was good and went down very nicely.
---
Comment from Martin T. on 2006-06-17 10:29:26
Now this is a weirdly-populated brewery! Situated on the same street as 2 other small breweries(!!), this was definitely the most characterful of them all. My wife was the only woman in the place, and probably with good reason. Apparently, the men that day came to "let go", "relax", and not be judged. And it shows. Let's leave it at that. Beautiful paintings on the wall, lamp fixtures were small replicas of boiling tanks, plants are lined up on the windowsill, decorations are crowded but well-chosen. We had the Schwarze Anna and Kellerbier from the bottle, and both were very good examples of their respective styles. Much better beer quality than Hebendanz next door imho, and that ambiance is...memorable. ;)

Kellerbier (bottled review):
-A lofty head bobs atop the hazy orange.
-Balanced hop herbs and malty structure provide ample enjoyment.
-Another beautiful extraction job offers a lascivious body.
-Oranges and coriander leaves quietly peek through the otherwise low-key aroma.
-Herbal hop bitterness is frank and down to earth.
-A very drinkable and full-bodied kellerbier, with all the classic signposts of what I understand of the style.

From the bottle at the brewery.

A bottle drunk back home a month later seemed to have lost most of its hoppiness, and was overcome by the yeast character. A shadow of the fresh one I had purchased and drank at the pub itself. From very good to okay.

Schwarze Anna (bottled review):
-Ample head sits over the opaque blackness.
-Roasted malt bitterness and molasses efficiently attract in both aroma and flavor profile.
-Huge malts and perfect carbonation make for a smashing body.
-Dark chocolate and nuts roam in this very fine schwarzbier.
-Not the most complex example, but it's so rich and satisfying!
---
Comment from gary on 2008-01-30 20:51:07
The nicest of the three breweries,as far as decor. A bit tough to get in at times due to the crowds and the rather unusual hours. Like the neder beer, in particular the schwarz anna. Which is one of my favorites.
---
Comment from Pete Meighen on 2008-12-18 07:12:21
This is truly a wonderful place. I spent many good times here and will never forget it. Recommend this brewery to anyone wanting a nice touch of Germany. Pete Meighen Ohio Jobs and Family Services Communications Network Engineer
---
Comment from Russ R. on 2009-12-08 15:32:47
Friendly pub with a lovely Fassbier. The Schwartze Anne (Dunkles) was the highlight.
---
Comment from Nigel on 2012-07-20 07:33:16
Excellent local bar with the Keller bier being the outstanding seesion beer here, got invited on to the stammtisch last time as i think they recognised the strange english people from our being there a few times before, even got offered some snuff!!
---
Comment from barry on 2012-09-22 12:56:58
Visited with Nick B on a late Friday afternoon. Very crowded but friendly enough and quite like a traditional English boozer! Thought the beer was a bit off but, after first seidla, seemed better (it was the end of a good afternoon's session!). Kellerbier is darkish and more malty than Hebendanz. Seems like a close relative of their Schwarzer Anna, which was a little sweet for my tastes. Well worth a visit.
---
Comment from barry on 2013-10-13 06:49:31
Update, Sept 2013. Became our local for 2 weeks, so really got to know staff and locals. Very friendly place and I love the Fassbier and Schwarz Anna. Wish it was my local here in Ireland!
---