Brauerei Hebendanz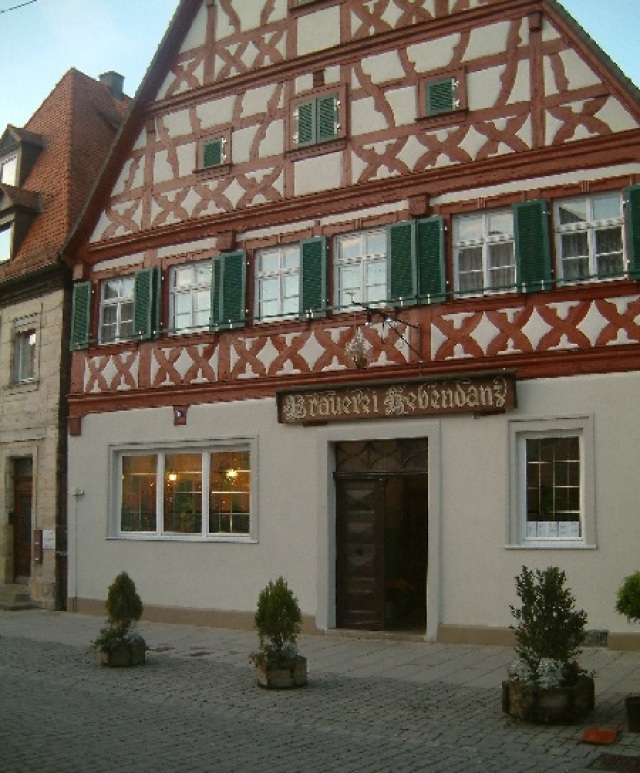 Sattlertorstrasse 14
Forchheim
91301

0 91 91 / 12 22
Opening Times
Monday
Closed
Tuesday
10:00-22:00
Wednesday
10:00-22:00
Thursday
10:00-22:00
Friday
10:00-22:00
Saturday
10:00-22:00
Sunday
10:00-22:00
Back to the brewery search.
---
Upload your own image of Brauerei Hebendanz
---
Comments
Comment from Jan-Erik Svensson on 2003-03-26 23:51:57
Good, softish and full-bodied beer. The bottled Festbier is especially good. I also like the Gaststätte very much.
---
Comment from Dave Brown on 2004-09-18 03:47:13
The front of the Hebendanz was covered with scafolding, which may explain the power cut while I was there, and why it felt a bit dark in the late afternoon. The bar is a bit down at heel, but the locals don't appear to mind, and the beer was good enough to make this a place worth going to.
---
Comment from Pedro on 2005-05-27 14:14:18
A wonderful, earthy hostelry with good, refreshing, hoppy beer. Very basic, unpretentious pub with "real" drinkers. Unfortunately we had to share our experience with one "Bernard Denbow", an unsavoury character from England (Ach! Englander Schweinehund!) whose "humour" exposed his coarse English roots.
---
Comment from Richie on 2006-04-15 19:10:14
Not a place to bring the wife & kids, but my very understanding German girlfriend (now wife) was good enough to come into this rowdy local and help me secure some of their bottled specialty beers. I didn't press to try the draft vollbier but after having their excellent Fest at home (which she loved as well), I wished I had.
---
Comment from Martin T. on 2006-06-17 10:31:26
This centrally-located brewery is right between Brauerei Neder and Brauerei Greif on the same street in Forchheim's picturesque altstadt. The beer vom Fäss (Export-Hell) was okay, but bland compared to Neder's characterful offerings. The food was even blander, a basic slab of meat with steamed vegetables, no inspiration, and bare cooking skills. Decoration was minimal, and gave the impression that we were in a precursor of decorating minimalism. Don't let the cute façade fool you, this is one veeeery simple tavern.

Export Hell (tap review):
-A full, big-bubbled head diminishes swiftly atop the clear, deep golden.
-A quiet aroma, typical of the region apparently, produces some sweet cereal allusions, and not much more.
-Honey and wet cereal keep things interesting, but can't stir up any emotion in me.
-Supporting hops are felt towards the end, but everything is so timid.
-Neder next door was much better the day we visited.
---
Comment from Gary on 2008-01-30 20:47:46
This is truly the working mans bar in this town.Full of cigarette smoke, but the beer is excellent. The hardest part was getting past the looks when we went in for the first time. Once we got to know some of the locals we had a great time here. Would definitely give this bar a try.
---
Comment from Russ R. on 2009-12-08 15:34:43
Now a smoker's club, I avoided the smokers by staying in the entryway and ordering through the hatch. The fassbier is a simple as is the Festbier. I'm sure my experience could have been enhanced if I had braved the smoke!
---
Comment from barry on 2012-09-22 12:53:24
Sadly, urlaub for most of our visit but managed one seidla in the beautiful sunshine outside the pub. Really good beer, more hoppy than other Forchheim brews. Wish we could have sampled more in situ. From our experience, also available vom Fass at Gasthof Schloessla on Bambergerstr - and don't worry about the picaresque clientele, they seem quite harmless and friendly!
---
Comment from barry on 2013-10-13 06:47:00
Update, September 2013. Hebendanz stube closed, as its owner seems to have gone bankrupt. However, brewery still operating awaiting new owner. Beer available at Schloessla (Bamburger Str) - highly recommended.
---
Comment from Stephan on 2014-08-11 09:45:44
Nonsense! Owner was never bankupt. They had to find a new guy who runs the pub. And, wow, they were successful. Check out the home page for new phone number and information:
http://www.brauerei-hebendanz.de/wirtshaus.html
closed Mondays
---