Brauerei Greif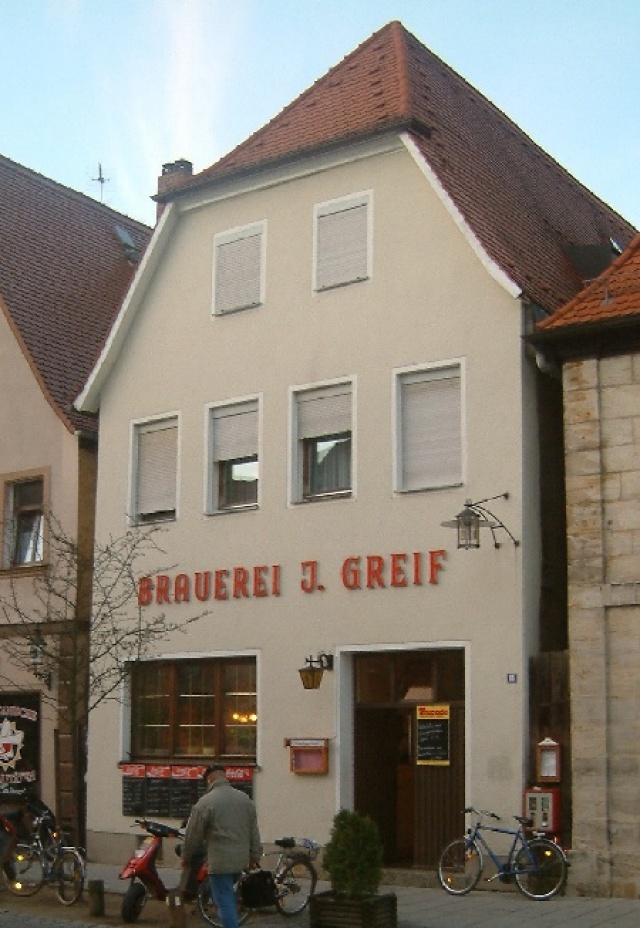 Serlbacher Strasse 10
Forchheim
91301

0 91 91 72 79 20

info@brauerei-greif.de
Opening Times
Monday
8:30-22:00
Tuesday
8:30-14:00
Wednesday
8:30-22:00
Thursday
8:30-14:00
Friday
8:30-22:00
Saturday
09:30-14:00
Sunday
09:00-13:00
Back to the brewery search.
---
Upload your own image of Brauerei Greif
---
Comments
Comment from Jan-Erik Svensson on 2003-04-01 06:55:31
Phenolic brew but sympathetic brewery.
---
Comment from Dave Brown on 2004-09-18 03:50:12
The Greif is a bit of a walk out of town, past the Eichhorn, and while the bar is nothing special, I thought the beer was very pleasant.
---
Comment from gary on 2008-01-30 20:45:17
Very basic pub here. Nothing fancy inside, but the beer is very good. The locals were all very pleasant, spent more than one night enjoying the various beers. Worth the effort.
---
Comment from Russ R. on 2009-12-08 15:27:07
I enjoyed the Weihnachtsfestbier at 10am on a Monday. Simple pub with a very local crowd. The brewery tap is next to the brewery just outside the ring road. Don't confuse this with pub on Sattlertorstrasse which is long-closed. Well worth the trek.
---
Comment from Barry on 2012-09-22 12:45:58
Having tasted Greif kellerbier on the kellerwald, was determined to sample it at the brewery tap. First visit, door locked and bolted, second visit on 14/9/12, lo and behold, open and a good few drinking in the garden. This is not the most scenic location (by apartment blocks) nor are the straggling brewery buildings the most characterful. However, the beer was excellent - pale yellow in colour, a nice balance of hops/malt and, straight from the cask right by the brewery, in beautiful condition. We were joined by Nick B later in the afternoon and he confirmed with the lady serving that this was the same beer as served in the kellerwald but what an improvement. Particularly nice to drink out of a glass where you could really appreciate its colour. Greif is a bit of a walk out of town but well worth the effort - if you can find it open!
---