Brauerei Eichhorn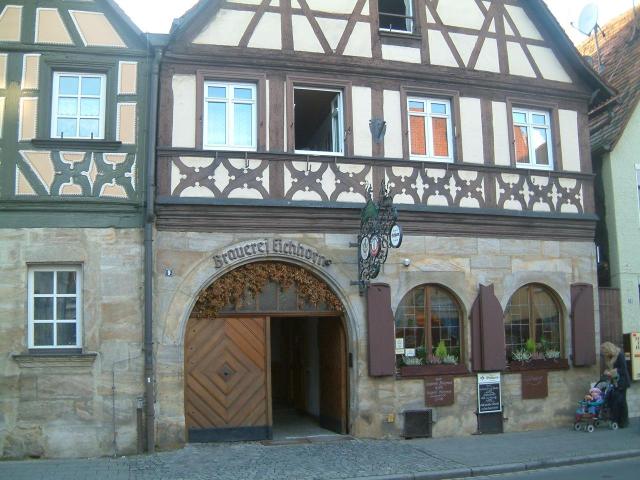 Bamberger Str. 9
Forchheim
91301

0 91 91 / 23 79
Opening Times
Monday
10:00+
Tuesday
Closed
Wednesday
Closed
Thursday
10:00+
Friday
10:00+
Saturday
10:00+
Sunday
10:00+
Back to the brewery search.
---
More images of Brauerei Eichhorn
---
Upload your own image of Brauerei Eichhorn
---
Comments
Comment from Jan-Erik Svensson on 2003-04-01 06:53:16
Definitely the fourth of Forchheim's breweries. Could be anywhere, there is nothing particular Franconian about it.
---
Comment from Dave Brown on 2004-09-18 03:40:40
A bit confusing, with Erdinger signs everywhere, but the beer appeared to be their own, and was pleasant enough. Nothing like the atmosphere of the other Forcheim brewerys, but then it was just a nice clean place.
---
Comment from Russ R. on 2009-12-08 15:37:42
A bit more upscale than the other breweries in town. The Vollbier was unremarkable but the service and environment was pleasant. Worth a stop if you're in town.
---
Comment from Barry on 2012-09-22 12:41:29
Visited Eichhorn twice between 28/9/12 & 14/9/12. First time, sat in garden, v. pleasant & friendly service. Enjoyed Vollbier, more malty & less hoppy than other Forchheim beers, but no less pleasant for that. Second time, pub was officially ruhetag but welcomed us to drink in the garden as they had a party in the lounge.
---
Comment from barry on 2013-10-13 06:44:31
Second time during visit Sept 2013. Comments as before but also tried Eichorn Pils, which was certainly very drinkable.
---
Comment from Brenda Eichhorn on 2020-02-01 09:44:20
This is part of our family heritage here in the United States. No better place then the Eichhorn Brewery. Would love for our family there in Germany to contact us. With much love!
---