Brauerei Roppelt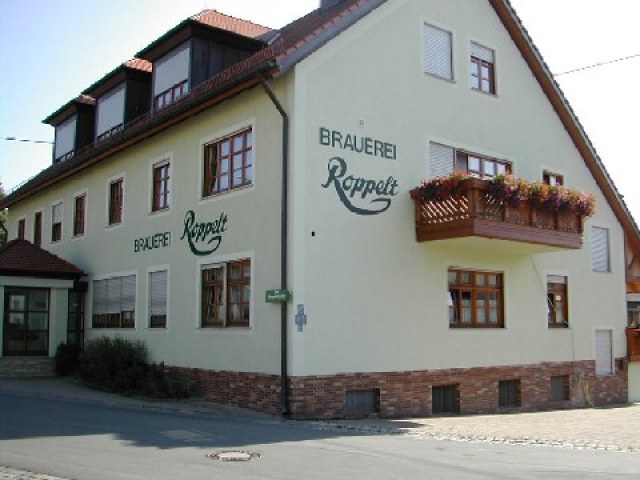 Nr. 9
Stiebarlimbach
91352

0 91 95 / 72 63
Opening Times
Monday
09:00-24:00
Tuesday
09:00-24:00
Wednesday
Closed
Thursday
Closed
Friday
09:00-24:00
Saturday
09:00-24:00
Sunday
09:00-24:00
Back to the brewery search.
---
Upload your own image of Brauerei Roppelt
---
Comments
Comment from Jan-Erik Svensson on 2007-01-28 15:12:33
A good, fresh-tasting and a little harsh unfiltered Lagerbier, perfectly refreshing in the Keller at the foot of the Hallerndorfer Kreuzberg.
---
Comment from Gary W on 2008-01-21 20:19:45
Place was packed the night we visited. Food is great. Had the Lager beer. Quite tasty! This place is way off the main road and easy to pass by. But well worth the effort. Hope to go back this spring and check out the beer garden.
---
Comment from richiecdisc on 2012-10-12 05:05:50
Tried to post this review below under the keller entry but it was rejected. Finally got a chance to visit the Kellerberg area and one of its many highlights is Roppert's Keller. This is not amongst the trio of kellers at the top of the hill but is actually a bit more accessible because of this. No matter, judging by the crowds, locals seem to love it. We soon found out why. Their kellerbier was rich and full-bodied with a nice dryish finish. At under 2 Euros a half-liter, it's a bargain, as well. We shared an ample Schuferla (shoulder of pork) with dumplings which was incredibly tasty and succulent. This was also quite reasonable at under 7 Euros. With so many good places in the vicinity, it's a good idea to share both food and beers. We sampled 18 different beers in three days.
---