Kathi-Bräu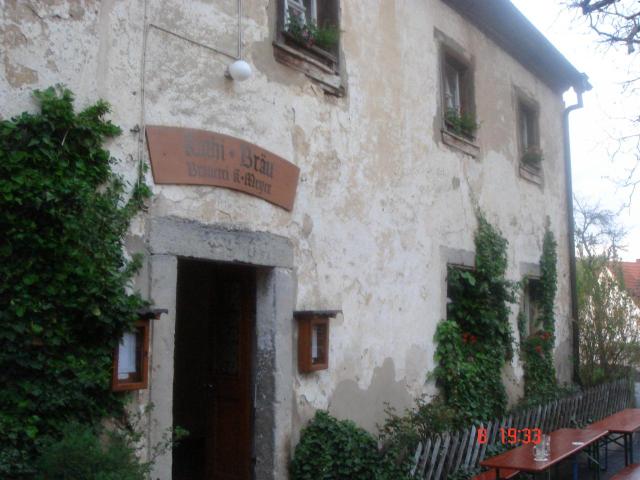 Small Brewery (less than 1000 hl/year)

0 91 98 2 77
Opening Times
Monday
09:00-23:00
Tuesday
09:00-23:00
Wednesday
09:00-23:00
Thursday
09:00-23:00
Friday
09:00-23:00
Saturday
09:00-23:00
Sunday
09:00-23:00
Back to the brewery search.
---
More images of Kathi-Bräu
---
Upload your own image of Kathi-Bräu
---
Comments
Comment from Jan-Erik Svensson on 2003-03-31 08:50:48
In the mid-nineties, locals told me that the beer was brewed by Patrizier in Nuremberg. Apparently a rumour, but how did it originate?
---
Comment from Philip Stanley on 2005-03-02 15:28:24
I haven't been here in over 3 years, but I recall the dark beer as having a slight sulpher nose with some coffee and caramel flavors. Almost opaque. Very different and for sure a house brew worth seeking out, especially for those who like dark malty brews. Lots of bikers, but a friendly atmosphere. A country location requiring a car, motorcycle, or bike.
---
Comment from Jürgen Wening on 2006-08-07 15:42:33
Nice beer! Very nice beer! This type is quite common in the west of central franconia, but not in that Fränkische Schweiz area. I always liked dark lagers and exports and this one is very tasty example and tastes as it looks like: dark! Recommended!
---
Comment from Angela Masasa on 2009-11-25 03:41:28
Good afternoon! My name is Angela. I live in Ukraine. I had high hopes! But there was a tragedy! And now I the invalid! All my finance leaves on medicines. My hobby the computer and gathering. I collect all labels. I do not ask from you money.But I very much ask to send to me labels, coasters, stoppers or other breweriana. Unfortunately we in Ukraine have no self-turned printed envelope and I cannot pay mail. Happy Christmas! My address: A.Masasa G.Dnepra 35,195 Kaniv-2 19002 Ukraine With the best regards!
---
Comment from Russ R. on 2009-12-08 15:11:03
Definitely a biker's pub during the warm months, it has a large biergarten and a good-sized pub. The Landbier was disappointing but the desserts were good.
---
Comment from 1LT Paco on 2013-06-16 10:31:26
Walked here as part of a beer walk on a sunny Sunday in June. I've been here before in the winter, and prefer it then. Wow, was this place crowded. It was as if the beer were free or something. The service was okay under the circumstances -- you just have to be a bit assertive. The one dark beer was good, somewhat original for the area which might be the draw for all the motorcyclists who take over this place.
---