Held-Bräu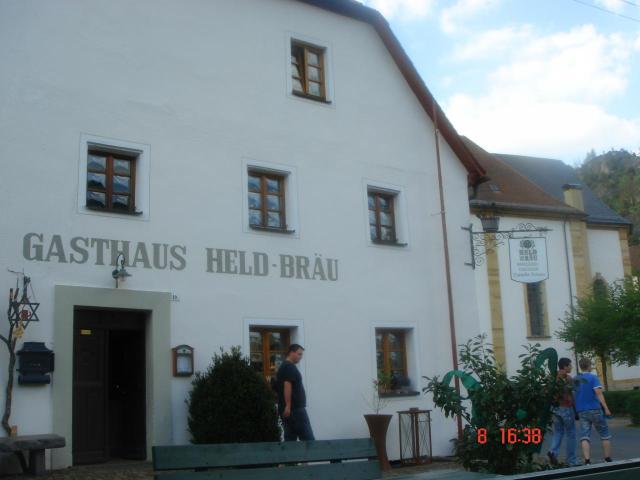 0 92 42 2 95

info@held-braeu.de
Opening Times
Monday
10:00-23:00
Tuesday
10:00-23:00
Wednesday
Closed
Thursday
10:00-23:00
Friday
10:00-23:00
Saturday
10:00-23:00
Sunday
10:00-23:00
Back to the brewery search.
---
More images of Held-Bräu
---
Upload your own image of Held-Bräu
---
Comments
Comment from Jim & Wendy Stebbins on 2004-11-01 12:52:51
The "8th Wonder of the World." While castle hunting one afternoon, we stumbled across this braueri in a very small village,located in the mtns. of Frankisch Schweiz. Undoubtedly,the best dunkel & helles we ever tasted. The dunkel was dark,rich,smooth with a huge,brown head,that dissipated quickly.Great food & cheap prices. A friendly atmosphere in a quaint,cozy setting. A perfect place to be on a cold day with the Kachelhofen in the corner,vines hanging from the ceiling from the heavy wooden beams. Go our of your way, if necessary to visit this braueri.
---
Comment from Jürgen Wening on 2006-10-31 23:52:48
Being on a beer tour yesterday, I thought the beer was only average, especially if compared to the highlight beers of this region like Schroll in Nankendorf. But the atmosphere of the pub is cosy indeed.
---
Comment from Jan-Erik Svensson on 2007-11-10 06:12:45
Very good Hell with tasty matiness and good hop balance. Good, very dark Dunkel with a toasted bread character that ends a little too quick.
---
Comment from Russ R. on 2009-12-08 14:47:51
Spent the night here in late November 2009. Excellent beer highlighed by Dunkles (Bauernbier) and the seasonal Weizenbock. Lovely eating/drinking area and friendly environment made us want to stop our beer exploration for the day and spend the night.
---