Brauerei Stadter
Sachsendorf
Points of Interest: The village of Aufsess (which includes Hochstahl and Sachsendorf) is listed in the Guinness Book of World Records for most breweries per capita (4 breweries, 1500 people).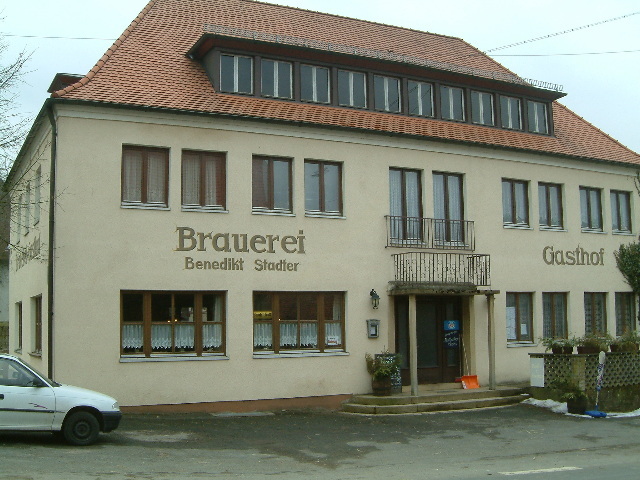 Small Brewery (less than 1000 hl/year)

0 92 74 / 7 86
Opening Times
Monday
Closed
Tuesday
10:00+
Wednesday
10:00+
Thursday
10:00+
Friday
10:00+
Saturday
10:00+
Sunday
10:00+
Back to the brewery search.
Other cities in the same district (Landkreis) as Sachsendorf
---
Upload your own image of Brauerei Stadter
---
Comments
Comment from Jan-Erik Svensson on 2003-04-07 07:25:14
Very dry beer typical of the Fränkische Schweiz.
---
Comment from Jørn L. Stang on 2009-03-25 02:08:53
We wonder why our comment about the brewery and our adventure there is away. Its pitty that well done description is removed !? Jørn, Ingmar and Ingar in Norway / Norwegen.
---
Comment from 1LT Paco on 2013-06-16 10:34:56
We started a walk to four breweries in this area on a sunny Sunday in June. Ended the walk here too. My favorite beer of the bunch -- very typical but well done. Friendly crew, nice little porch with some outside tables. Busy but not crazy.
---