Brauerei Rothenbach
Aufsess
More information on Aufsess can be found at www.aufsess.de (German)
Points of Interest: The village of Aufsess (which includes Hochstahl and Sachsendorf) is listed in the Guinness Book of World Records for most breweries per capita (4 breweries, 1500 people).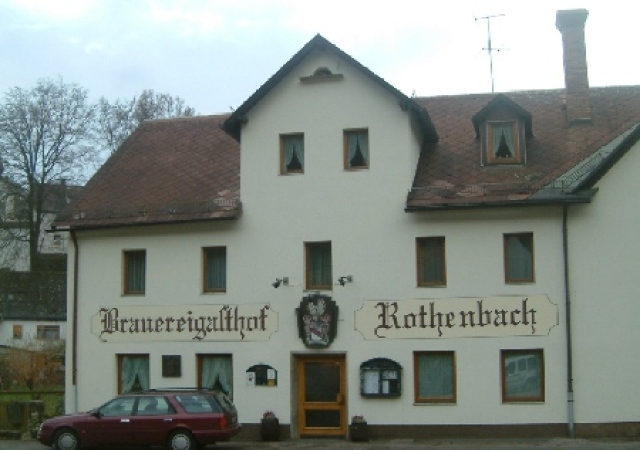 0 91 98 / 82 82

info@aufsesser.de
Beers are brewed under the name Aufsesser, April to October open every date. March and November closed Tuesday, December thru February close Monday thru Thursday.
Opening Times
Monday
08:00-24:00
Tuesday
08:00-24:00
Wednesday
08:00-24:00
Thursday
08:00-24:00
Friday
08:00-24:00
Saturday
08:00-24:00
Sunday
08:00-24:00
Back to the brewery search.
Other cities in the same district (Landkreis) as Aufsess
---
Upload your own image of Brauerei Rothenbach
---
Comments
Comment from Tom Perera on 2003-05-30 07:27:12
A most amazing Pils! Had I not had a couple beer experts and "geeks" along who agreed with me, I might of thought it was just me. We also tried it bottled and it seemed even more aromatic! It was a love affair, can't wait to get back.
---
Comment from Rick Garvin on 2004-01-31 07:54:28
Notes from 2002 - Pils: Hoppy with sulfer, dry, assertive bitterness, long finish, good carbonation. Dunkles: sharp caramel flavor - not well integrated.
---
Comment from Timothy Holian on 2005-02-16 22:28:47
Aufsesser Dunkel has a malty but alcoholic nose, with a nice rich amber color. Deep roasted malt flavor early yields to a hoppy finish and aftertaste. A slightly burnt malt character detracts somewhat from the overall impression.
---
Comment from Jan-Erik Svensson on 2007-11-10 05:44:21
More like a modern restaurant with more tourists than locals behinde the glasses. The brewery has three nice orange-brown beers - Dunkel, Festbier and Bock - with a bready maltiness and a dry aftertaste. They are quite similar, but I especially liked the Bock. In my opinion, the Wiezen and Pils have less character.
---
Comment from 1LT Paco on 2013-06-16 10:16:05
Just wanted to add a review since there has not been one for several years. Visited today as part of the beer walk in this area to four breweries. It was a sunny Sunday in June. Although busy enough, this place was not nearly as busy as the others in the area -- for some reason all the motorcycle people don't have this as part of their stop. Just fine with me. The beer was typical Franconian and good.
---