Brauerei Rittmayer
Aisch
More information on Aisch can be found at www.aisch.de.vu (German)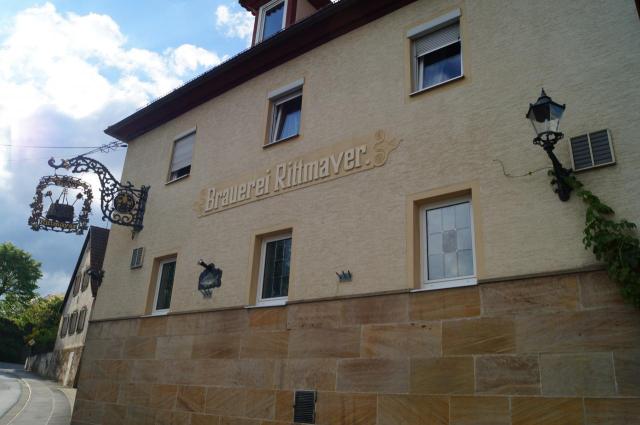 Aischer Hauptstraße 5
Aisch
91329

0 91 95 72 22
Get off at Adelsdorf Marktplatz. Walk north about 500m on Aischerstrasse until you reach the Marienplatz.
Opening Times
Monday
Closed
Tuesday
09:00-14:30
Wednesday
09:00-14:30
Thursday
09:00-14:30
Friday
09:00-14:30
Saturday
09:00-14:30
Sunday
09:00-14:30
Back to the brewery search.
Other cities in the same district (Landkreis) as Aisch
---
More images of Brauerei Rittmayer
---
Upload your own image of Brauerei Rittmayer
---
Comments
Comment from Jan-Erik Svensson on 2003-05-09 04:49:50
Soft, plain and clean beer with deep yellow colour. Very pleasant small beer-garden across the street.
---
Comment from Nick B. on 2006-05-07 02:06:15
I should've taken a photo of the brewery history that's on a page of the menu. It's not just about the brewery, but also the Rittmayer family, which was knighted in 14xx. I forget exactly what's written about the "Hausbrauer" beer, but I think this beer is strongly hopped, and also a bit young--not fully fermented, according to the menu. It's a bit sweet, but also hoppy. The kitchen is better yet: we ate really impressive poached catfish filet. [[[Paragraph]]] Ich hätte ein Foto der Brauereigeschichte machen sollen, die auf einer Seite der Speisekarte steht. Sie geht nicht nur um die Brauerei, sondern auch die Familie Rittmayer, die im Jahr 14xx zum Ritter geschlagen wurde. Und ich vergass genau was über das "Hausbrauer" Bier geschrieben ist, aber ich denke das dieses Bier stark hopfig ist, und auch etwa jung ist--d.h. nicht vollig vergoren, laut der Karte. Es schmeckt ein bisschen süß, aber ja auch hopfig. Die Küche ist noch besser: wir aßen gedünstetes Wallfilet, das wirklich beeindruckend war.
---
Comment from Paul und Sigi Ovalle on 2007-11-24 09:26:50
Ate the most delicious meatloaf I've ever had and der bier was very good. Hope to stop in again. Hello from Houston, Texas USA.
---
Comment from Mat W on 2010-07-05 12:16:27
Visited on 06/17/10 - Another bar where I was the only person in it, however it was only 10.00 in the morning. Ber very good so I statyed for another, before walking back to Adelsdorf to wait for a non-existant bus. Saw from the local bus stop on Marienplatz in Aisch that there is a 247 bus to Neuhaus for Lowenbrau at 1134. Could be a useful fill in move for someone.
---
Comment from Barry on 2017-06-16 06:33:08
Quick visit with Nick (3/6/17); nice garden situated across road from Stube. Very nice Helles, well balanced, well worth a visit.
---
Comment from Nick B (ex-ErlangerNick on 2021-01-17 09:54:53
Barry, I'm glad you enjoyed it. This became one of my absolute favourite beers over the years, after neglecting it early on in my time in Erlangen. It would be the classic "rustic" lager, I think. I'm sorry to say I don't remember our visit.
---
Comment from Nick B (ex-ErlangerNick on 2021-01-17 09:56:56
Jason, please go back and get some pics of the little Biergarten (I forget, is it actually a retired Keller?) across the road, including service from the barrel at the window in the little Ausschank. What a wonderful little place.
---