Brauerei Hartleb
Maroldsweisach
More information on Maroldsweisach can be found at www.maroldsweisach.de (German)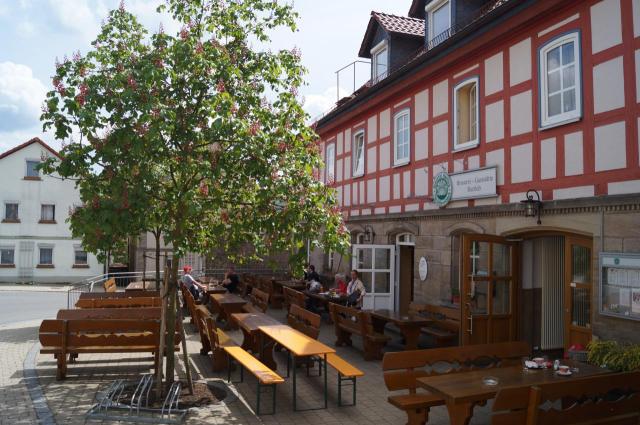 Brauerei Hartleb
Herrenstrasse 9
Maroldsweisach
96126
Small Brewery (less than 1000 hl/year)

0 95 32 2 40
Opening Times
Monday
09:00+
Tuesday
09:00+
Wednesday
Closed
Thursday
09:00+
Friday
09:00+
Saturday
09:00+
Sunday
09:00+
Back to the brewery search.
Other cities in the same district (Landkreis) as Maroldsweisach
---
Upload your own image of Brauerei Hartleb
---
Comments
Comment from Jan-Erik Svensson on 2003-03-28 02:11:39
Robust is a really good word! This powerful golden-amber beer has loads of sweetish malt in both nose and taste, but it has a pronounced hoppiness as well.
---
Comment from Philipp Jeger on 2003-05-28 11:20:24
I'm very stunned that foreign people like Hartleb so much. Well I like two drink this beer too. I especially like that You can buy small barrels ( 10 -30 liters) for Your own barbecue Party. The only problem ist You usually drink to much of it, because of the few H2CO3 ( i don't know the englich word for Kohlensäure)
---
Comment from Charles Miller of Oregon, Wisconsin on 2004-03-30 18:15:56
Herr Jeger. Bitte, in englisch die Kohlensaure ist "carbon dioxide". Does Hartleb brew "bock bier" in Lent? I would love a stein or two this evening before bedtime. We brew a lot of German biers in Milwaukee and Madison, (10km North of Oregon). Also, we have the Sprecher Brauerie in New Glarus making Swiss style biers (10km Southwest of here). Come over and drink some of our fine beers when you can! Ein Prosit! Charles Miller
---
Comment from Carl von Bibra on 2004-06-04 18:05:53
Small brew pub. Hefe Trube is our beer of choice. This exemplifies the what a micro brew should be.
---
Comment from Vic Duesel on 2004-11-30 13:44:21
My wife Kathy and I visited Maroldsweisach in Dec. and Jan. 2002. My father was born there and I got to meet my Aunts, Uncle and cousins for the first time. We rented rooms at the Hartleb Brewery, the hospitality, food and beer is excellent and we can't wait to get back.
---
Comment from Jim Meredith on 2005-09-07 03:41:17
I visited the Brauerei Hartleb for the first time after completing a nearby volksmarch in 2003. I liked the beer so much, I made a special trip back to have a few empty 2 and 3 liter bottles filled. To me, this beer is some of the best I've had in Germany.
---
Comment from Stefan Pratch on 2006-12-07 01:51:16
Irmgard, du bist die Beste
---
Comment from Carl von Bibra on 2006-12-19 16:23:45
I left a message before but having been treated to their Hefetrube again this last summer a couple times, I want to restate that it is among the best beers in the world. The only beer I would give the edge to is the unfiltered quality control beer at the Pilzner Urquel brewery.
---
Comment from Jürgen Wening on 2007-03-26 04:04:15
Interesting hop pronounced beer which probably wouldn't differ much from other beers if it weren't unfiltered. But this way it's really very drinkable. The basalt stone area obviously adds some hardness to the water.
---
Comment from Peter Victor Otto on 2021-02-18 07:57:23
ALLES
---