Frank Wetzel's Top Ten Picks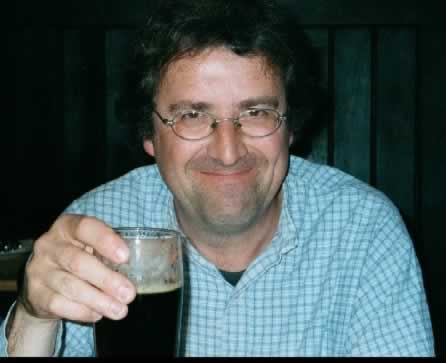 Frank Wetzel is one force behind www.BierRegion-Franken.info, the website that was the inspiration for this one. He is always traveling to the breweries in the countryside and has graciously agree to give us his ten favorite breweries outside of Bamberg. (I would not let him choose any Bamberg breweries) The rest of the words are Frank's. Where I thought some explaination or addition was in order the comments are in italics.
[Note: The translations are mine and I take responsibilty for any errors- Fred Waltman (fw)]

Brauerei Schrüfer in Priesendorf. The brewer apprenticed at Brauerei Spezial in Bamberg (and according to Frank Spezial-beer is the best beer in the universe!). The Schrüfer beer is not a Rauchbier like Spezial, but it tastes almost as good!
Brauerei Witzgall in Schlammersdorf. This beer is one of the best beers in Franconia. It is well hopped and a brilliant beer!
Engel (Brauerei Lamm) in Eltmann. One of the few wheat beer breweries in Franconia. The yeast is so thick that you almost have to chew it. It is excellent in both summer and winter.
Brauerei Griess in Geisfeld. A first rate, well hopped bier. In the summer it is a particularly good way to quench your thirst at the most beautiful Bierkeller in all Franconia. [Which, by the way, is an easy bicycle ride from Bamberg - fw.]
Brauerei Kaiser in Grasmannsdorf. The tasty Kaiser Bier is a gourmet treat in the little Biergarten in front of the brewery.
Brauerei Seelmann in Zettmannsdorf. An excellent beer, than one can enjoy with the cheerful Seelmann family in both the brewery pub and in the Biergarten. The beer is available only on draft at the brewery.
Kommunbrauhaus in Neuhaus / Pegnitz. One of the few remaining Communal Breweries in Germany. Four different families rotate the brewing and serving duties (each has their own pub). You have to look for the "Brewer's Star" (a six pointed star) to tell which one has the beer. The beer is always good, no matter who brewed it. The beer is only available on draft.
Brauerei Wagner in Kemmern.The Wagner Brewery brews a good Pils and an very good "Ungespundetes" Lager. From the brewery's Bierkeller one has a beautiful view.
Brauerei Hübner in Steinfeld. A lovely village pub with excellent and very tasty beer. It so so good that sometimes even the music of the "Oberfrankenrebellen" [literally "Upper Franconian Rebels" -- it is a local band that plays traditional and popular music sung in the Franconia dialect. fw] is a pleasant accompaniment
Brauerei Först in Drügendorf. One can have good beer and good food in the small brewery restaurant. One of the many Franconian breweries that tourists rarely find.
---