The Gravitational Pull of Bamberg (Day Three)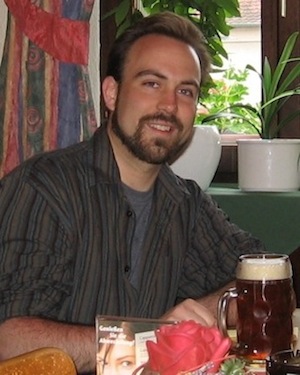 Martin Thibault is from Montreal but has traveled the world in search of Good Beer.
He submitted this report many years ago (so many I am embarrased) and it sat on the virtual shelf gathering virtual dust. When planning the move to a new server I was poking around in the dusty recesses and stumbled upon this trip report, which I realized I had never put up on the site.
Martin has graciously let me post it, even though parts of it are out of date -- sadly, old breweries are closing monthly and some mentioned here are no more.
Day Two of the trip can be found here
Day 3 : Hirschaid, Schlammersdorf & Kreuzberg
"Do you have a license?" yelled an unannounced Logan at our pitiful attempts to tame our loaned bikes in Bamberg's stoney streets. Yeah, that Logan is Logan Perkins, GABF party host extraordinaire and fun-loving globetrotter, a pal from the Burgundian Babble Belt. Oh, and he's an experienced mountain biker as well. We are not. Our plan was simple, but maybe ambitious for the squeaky bikes we had inherited. To ride the 25 or so kilometers in the countryside south of Bamberg, and eventually reach the Kreuzberg, a hill on which 3 rural breweries have their kellers side by side. After getting reasonably lost more than a couple times around the bike path which was supposed to hug the canal all the way down to Eggolsheim (according to our map), we finally stopped in Hirschaid, thirsty and sore. Our seats were rocks you see. And my bike was stuck in 5th gear too. Perfect for hills. And ferries, too. Ferries? I told you we got lost…
Anyway, Hirschaid is the home of Brauerei Kraus, where a large range of beers is brewed. The gaststätte (brewery restaurant) was steaming for us bikers, so we settled in the cool and breezy biergarten out back. Fresh manure wafts emanated from God knows where; we were officially at a countryside brewery! As Logan entertained us with stories of his getting pelted with thousands of tomatoes at Spain's greatest tomato fight, we got to try the Lagerbier and the Hirschentrunk, a lightly-smoked lager. The Lagerbier was classy, grassy, and full of bready cereals. A clean, drinkable body letting all the subtleties express themselves fully. The Hirschentrunk had a delicate, earthy smoke in a well-malted, svelte body, but was ultimately too clean and caramelly to compete with the likes of Spezial's Rauchbier Lager, and Schlenkerla's Märzen, to name but a couple. Still, a decent attempt. Our prospector instincts soon got the better of us and we mustered the courage to re-embark on our less-than-comfortable bicycles, heading this time for Schlammersdorf.
We didn't even have time to look for the brewery. Once we knew we were in Schlammersdorf, we were right in front of Brauerei Witzgall. It's that small of a village. The kind matron was very happy to show us the way to the yard out back where locals were enjoying the sunshine and the beer. The Völlbier was on tap, and the Landbier from the bottle. We got a pint of each, of course. The Völlbier was light and simple-minded, with a decent maltiness of cereal freshness and caramel sweetness. Good, but nowhere near the beauty of the bottled Landbier. This one suggested pink grapefruit and herbal hoppiness, deployed into spicy, gingery extremities. A lip-smacking grassy hop bitterness followed up the very fitting tropical fruitiness and hay. Tasty, complex, me happy. The grandmotherly matron appeared flattered when I asked if I could bring a bottle of it back home, and she gave it to me, smiling. A present from Schlammersdorf! The friendliness of the countryside was making me forget about my riding woes.
Drenched in sweat, walking up the Kreuzberg from Hallerndorf (bike stuck in 5th gear, remember?), mustard seed fields [editor's note: It probably was Rape Seed a/k/a Canola] coloured the panorama with bright yellow patches, creating checker boards of green and golden squares. Idyllic, you say? The top of the Kreuzberg is even more rewarding. Nestled in the cool shade of the tall woods, 3 kellers sit ideally next to each other, calling you out for refreshment, repast, and rest. Brauerei Friedel (from Schnaid), Brauerei Rittmayer (Hallerndorf), and Brauerei Lieberth (Hallerndorf) all serve their beers here in this oasis of freshness. The first one that greets us as we reach the summit is Friedel's. Their blackboard announces more goodness than I had expected: Zwicklbier, Kräusen Pils, Hefe Weizen, and Doppelbock! Oh boy, oh boy, oh boy, oh boy!
We quickly chose our picnic table under the trees, and ordered pints of the Zwicklbier, Kräusen Pils, and Schwärzer Doppelbock. The Zwicklbier was earthy and fruity, and possessed a sugary, yeasty component which accentuated the lager's eccentricity. Soft carbonation, full body, always a pleasure. The Kräusen Pils, an unfiltered pilsner, was rich with hay, citrus, gooseberries, and dry hoppiness. Noticeable yeast was a little zealous, but it remained a very good pils. As we were ordering, a local had come to see me to make sure I ordered the doppelbock. He didn't have to twist my arm much, if you can imagine. This tap doppelbock had a perfectly sensual body, a sturdy ground for candied berries, caramel, roastiness, and overall very complex maltiness. A great example, and an even greater surprise on this humid spring day. The currywurst and the bugs crawling up the krugs only added to the experience.
As Logan sang the chicken song to all who desired (even to those who didn't), we took a few steps past the Lieberth Keller, to the Rittmayer Keller, only a few steps further. They had their Landbier from the gravity cask, and the Raiterla Rauchbier and Weissbier from bottles. The Raiterla was absolutely sumptuous with its wooden, smoky perfume, a festive emulation of a campfire, the morning after. For reference, its smokiness isn't as blazing as Schlenkerla's, but still exceeds that of Spezial's. Earthiness latches on to the maltiness, and the smooth carbonation allows a rich mouthfeel. A hero of the rauchbier world. Still riding the excitement wave, we delve into the Landbier. Another beautiful aroma seduces us, ripe with citrusy and herbal hops (Logan insists on persimmon…) sitting on gleaming patches of straw. Hop bitterness hangs on to the creaminess of the palate, and strong earthy hop flavors make sure we remain in awe. A stunningly drinkable and flavorful number, another masterpiece from Rittmayer. A bottle purchase of the Raiterla and Weissbier later, we stumble over to the Lieberth Keller. Sitting between the two great brewers that are Rittmayer and Friedel, Lieberth had to deliver a stunning performance for us to notice, but they didn't. Their only offering, a kellerbier, was flat-looking and failed to entice and please with its tea-like hoppiness and watery passages. A dirty, earthy lager, with a lean body and a wet, yeasty finish. Not exactly my cup of beer.
Logan started scaring the children with his funny faces, so we moved back to the Friedel Keller to have a decent meal before we crawled back onto our bikes. I insisted we didn't have another beer, but Logan had to get the Hefe Weizen. He did well. The Friedel Weizen was teeming with banana and clovey esters, herbal hops, all in a classic, creamy weizen feel. All of these guys' beers are idiosyncratic, rich and tasty. What a wonderful end to this day of beerhunting. Yes, we took the train to get back to Bamberg. I was now officially despising my bike.
Beers of the day:
Rittmayer Raiterla, and Rittmayer Landbier
Other brushes with excellence: Friedel Schwärzer Doppelbock, Friedel Hefe Weizen, and Witzgall Landbier
Day Four can be found here
---